Over Exposure for Cindy's Little Girl?
Over Exposure for Cindy's Little Girl?
Cindy Crawford is being criticized for letting her 5-year-old daughter pose for pictures that some are calling kiddie porn. The pictures of Kaya posing in swimsuit bottoms and topless and with a tattoo on her back have now been pulled from a trendy beachwear website. Has Cindy crossed the line? Click here to see the pictures and decide for yourself. The Lowdown reports: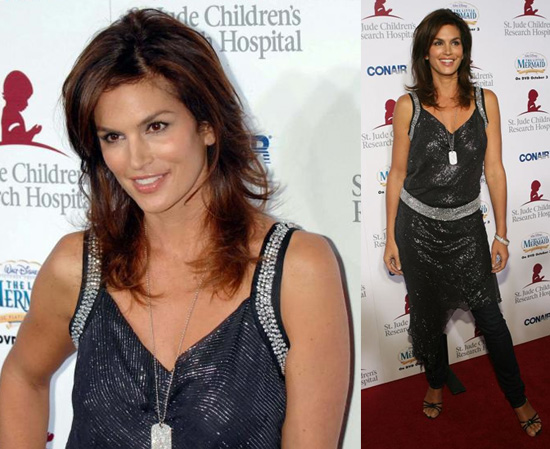 Trendy Melissa Odabash beachwear - which has outfitted celebs such as Britney Spears, Uma Thurman and Pamela Anderson - yesterday announced it will pull pics of Kaya from its Web site.

One shows the 5-year-old daughter of Crawford and nightclub owner Rande Gerber posing topless, peeking over her left shoulder at the camera, with white shorts with a lower-back tattoo. Others show her in a string bikini.

Another critic wrote: "The topless one with the back tattoo and the provocative pose borders on kiddie porn. The child is cute and makes an excellent model, but the poses and the swimsuits are far too sexualized for children. Shame on you, Cindy, to let your 5-year-old baby participate in this."

Crawford's PR rep initially laughed off the criticism. "Oh my God, that's ridiculous," she said yesterday. "It's a stick-on tattoo!" Asked for a comment from Kaya's parents, the flack said: "Cindy's friends own this company. It was just a fun little photo shoot they did in Malibu one day. Kaya is not modeling."
We knew the pics we posted the other day would create backlash but it looks like Cindy isn't too worried. She seems more worried about being accused of using Botox. Based on these images from the Runway For Life St Jude's Childrens Hospital Charity Event, what do you think? We've seen Cindy in person and she really is stunning - even better looking in person. Lots more pics so read more