Is PETA Picking on the Olsens Too Much?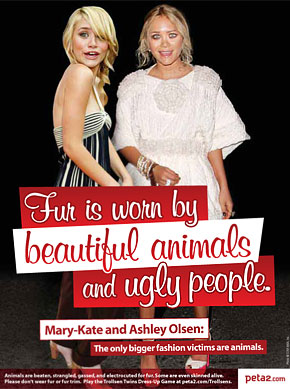 It's no mystery why PETA isn't a fan of Mary-Kate and Ashley Olsen's fashion choices, considering the twins are often seen wearing fur and have included it in both of their fashion lines. Today, the organization unveiled a new anti-Olsen's effort, including an entire interactive website and an ad campaign to be unveiled at their star on the Walk of Fame.
In addition to rolling out the site and a MySpace page dedicated solely to exposing the "pair of unpleasant, airheaded fur hags" (referring to them as Hairy-Kate and Trashley Trollsen), the organization is also making personal attacks against the twins' weight and physical appearance. So we want to know — do you think PETA is picking on the Olsens too much?