Pam Anderson and Kid Rock Getting Married
Pam loves to stay close to her exes. We wrote about how she could not quit Kid and now it turns out they are about to get married. Last time they were engaged, they never made it to the altar but now US Weekly is reporting a date has been set for their wedding. Here's more: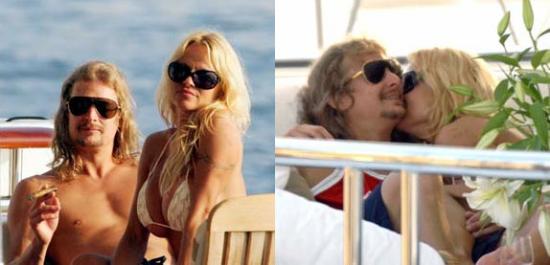 It turns out that Hollywood's top bombshell has been hiding a bombshell of her own: a July 29 wedding to on-again, off-again fiancé Kid Rock, aboard a yacht near St. Tropez.

"They've been close for a very long time and decided that now is the right time to take the next step," her rep confirms exclusively to Us. "They couldn't be happier about their future together."
Being in St Tropez might have helped fuel the romance into marriage. That place is pretty magical. Congrats to the happy couple.
UPDATE: from Pam's website:
Yes. I'm finally getting remarried...it's been a whirlwind...spontaneous but well thought through. Feels like I've been stuck in a time warp. Not able to let go of MY family picture...it's been sad and lonely and frustrating....I've raised my kids alone in hope of a miracle. Well my miracle came and went. And came back and came back because he knew that I'd wake up one day and realize that I was waiting for nothing. I'm moving on...I feel like I'm finally free....I'm in love. I'm happy....I see the light...sounds dramatic but it's true.....I know some women can relate to this....My children are getting older. They know the truth and they are strong, smart kids. They love their Dad. They love their new Step Dad who they've known for years...time will pass. Wounds will heal. Some people may never grow up. Actions speak louder than words....watch!


I think Bob never got over Pammy and he won her back. Wonder how long this one is going to last....