Paris Gets Real with Larry King
Paris began her reinvention tour with her first TV appearance on Larry King Live. While she obviously touched up her roots, she did drop her fake blue contacts and girlie baby voice for a more grown up version of herself in hopes that she will be taken more seriously. She also dressed the part, looking fab in her BCBG dress and Louboutin pumps. On the show Paris read her journal entries and made the following statements: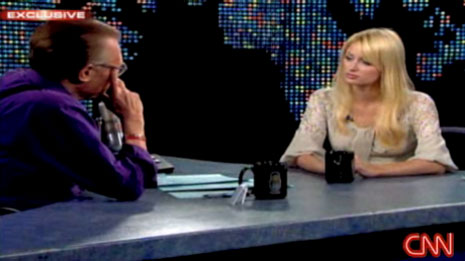 I felt like this is a new beginning for me, to see jail -- and I just used it as a journey to figure out myself and who I am and what I want to do. And there's just so much more to me than what people think.
... it was a very traumatic experience, but I feel like God does make everything happen for a reason. And it gave me, you know, a time-out in life to really find out what's important and what I want to do, figuring out who I am. And I'm -- even though it was really hard, I took that time just to get to know myself.
Well, a misconception that I always hear is Paris doesn't work for a living. She just, you know, gets money from her family. And I completely disagree with that. I've been earning (ph) on my own, by myself. I've not taken any money from my family. I work very hard. I run a business. I had a book on the "New York Times" best seller list. I'm on my -- TV show. Did an album. Do movies.
Ah, the NY Times bestseller. How did we forget that one? Other highlights of the interview include her disgust for prison food, admitting to having ADD (don't we all?), and claims she does NOT do drugs. Is she kidding? We've all seen the many pics and videos of her doing otherwise. She also had a few nice things to say about BFF Nicole and Britney, calling her a "sweet girl" and a "good mom." When Larry brought up Lindsay Lohan you could tell she was not friends with her. In fact, when asked about having friends in rehab, she said, "I don't have any friends in rehab." Click here to read the entire transcript. Lets hope Paris has changed since we'd rather write about her doing some good instead of just walking another red carpet because one thing's for sure - love her or hate her - she's a phenomenon and you can't seem to escape Paris Hilton - even when she's in jail for 3 weeks.