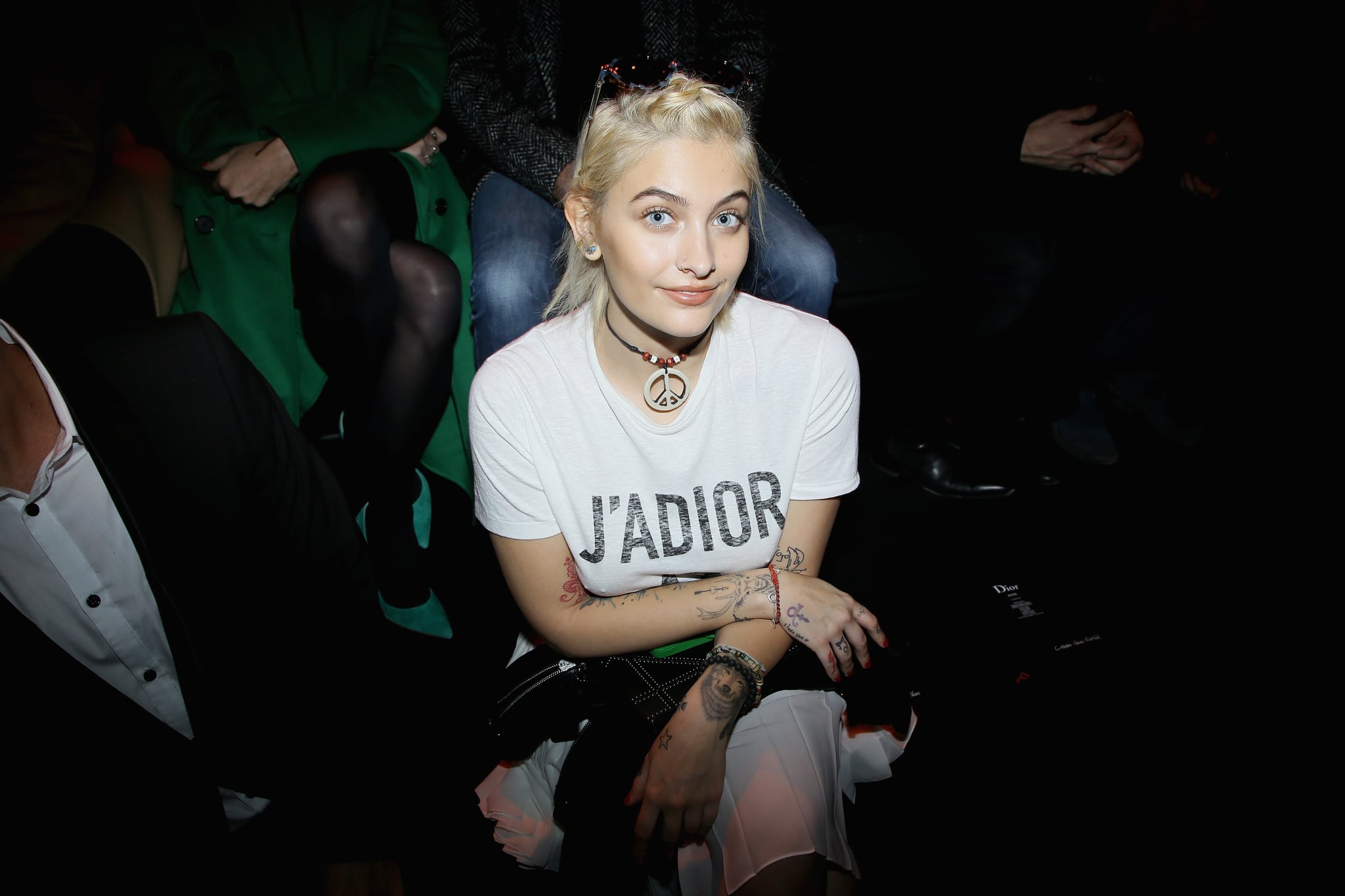 Since the death of her father, Michael Jackson [1], in 2009, Paris Jackson and her siblings — Prince, 19, and Blanket, 14 — have mostly shied away from the spotlight. Now that the 18-year-old model is coming into her own [2], she's discussing her private life on her own terms. She sat down with Rolling Stone [3] for her first-ever in-depth interview, which touched on everything from her hospitalization for a suicide attempt [4] in 2013 to what she thinks is the real cause of the untimely death of the King of Pop, who died when she was just 10 years old.
On finding inner strength after Michael's death: "They always say, 'Time heals.' But it really doesn't. You just get used to it. I live life with the mentality of, 'Ok, I lost the only thing that has ever been important to me.' So going forward, anything bad that happens can't be nearly as bad as what happened before. So I can handle it."
On what it was really like to grow up on the Neverland ranch: "We couldn't just go on the rides whenever we wanted to. We actually had a pretty normal life. Like, we had school every single day, and we had to be good. And if we were good, every other weekend or so, we could choose whether we were gonna go to the movie theater or see the animals or whatever. But if you were on bad behavior, then you wouldn't get to go do all those things."
On Michael's instant acceptance of her: "[I was] in love with this female on the cover of a magazine. Instead of yelling at me, like most homophobic parents, he was making fun of me like, 'Oh, you got yourself a girlfriend.'"
On the importance of education her dad instilled in her: "His number one focus for us — besides loving us — was education. And he wasn't like, 'Oh, yeah, mighty Columbus came to this land!' He was like, 'No. He f*cking slaughtered the natives.'"
On her suicide attempt after struggling with depression and drug addiction: "It was self-hatred, low self-esteem, thinking that I couldn't do anything right, not thinking I was worthy of living anymore."
On not fitting in at her high school after Michael's death: "[I was hanging out with] a lot of older people, doing a lot of crazy things. I was doing a lot of things that 13, 14, 15 year olds shouldn't do. I tried to grow up too fast, and I wasn't really that nice of a person."
On getting the help she needed from a therapeutic school in Utah: "I'm a completely different person. I was crazy. I was actually crazy. I was going through a lot of, like, teen angst. And I was also dealing with my depression and my anxiety without any help."
On being sexually assaulted at 14: "I don't wanna give too many details, but it was not a good experience, at all, and it was really hard for me, and, at the time, I didn't tell anybody."
On the rumors that Michael isn't her real dad: "He is my father. He will always be my father. He never wasn't, and he never will not be. People that knew him really well say they see him in me, that it's almost scary. I consider myself black . . . [my dad] would look me in the eyes and he'd point his finger at me and he'd be like, 'You're black. Be proud of your roots.' And I'd be like, 'OK, he's my dad, why would he lie to me?' So I just believe what he told me. 'Cause, to my knowledge, he's never lied to me. Most people that don't know me call me white. I've got light skin and, especially since I've had my hair blond, I look like I was born in Finland or something."
On the allegations of child molestation against Michael: "He did not bullsh*t us. You try to give kids the best childhood possible. But you also have to prepare them for the sh*tty world. Picture your parent crying to you about the world hating him for something he didn't do. And for me, he was the only thing that mattered. To see my entire world in pain, I started to hate the world because of what they were doing to him. I'm like, 'How can people be so mean?'"
On the side of her dad that the world never saw: "Nobody but my brothers and I experienced him reading A Light in the Attic to us at night before we went to bed. Nobody experienced him being a father to them. And if they did the entire perception of him would be completely changed forever."
On Michael's stressful rehearsal schedule for his comeback tour in 2009: "He was like, 'Yeah, we're gonna live in London for a year.' We were super-excited — we already had a house out there we were gonna live in. I'd tell him, 'Let's take a nap,' because he looked tired. We'd be in school, meaning downstairs in the living room, and we'd see dust falling from the ceiling and hear stomping sounds because he was rehearsing upstairs."
On fearing Justin Bieber is falling into the same trap as her dad because of AEG Live, the concert promoters her father used: "AEG Live does not treat their performers right. They drain them dry and work them to death. [Justin Bieber] was tired, going through the motions. I looked at my ticket, saw AEG Live, and I thought back to how my dad was exhausted all the time but couldn't sleep."
On if she thinks her father was murdered: "Absolutely. Because it's obvious. All arrows point to that. It sounds like a total conspiracy theory and it sounds like bullsh*t, but all real fans and everybody in the family knows it. It was a setup. It was bullsh*t."
On if she wants revenge for what happened to Michael: "Of course. I definitely do, but it's a chess game. And I am trying to play the chess game the right way. And that's all I can say about that right now."