Paris Loves Playing Hockey, Doesn't Care About the Money
Paris Loves Playing Hockey, Doesn't Care About the Money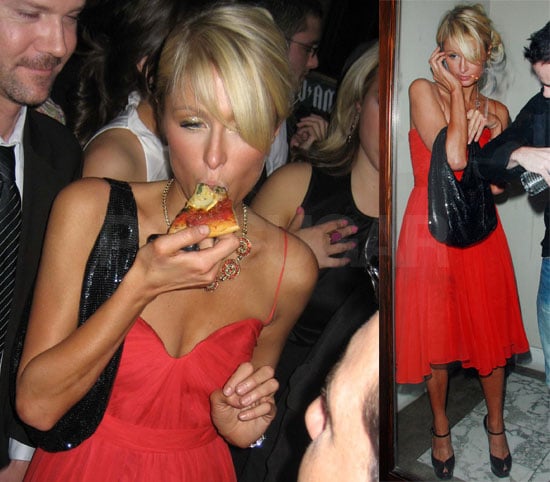 0
Paris Loves Playing Hockey, Doesn't Care About the Money
Paris Hilton wasn't afraid to chow down hard on the pizza at The Hottie And The Nottie premiere after party in LA last night. Yum. Miss Hilton is in the middle of a full on publicity blitz for her movie which only opens on 100 screens this weekend, including her tame Letterman sit-down and an interview in this week's Parade Magazine. In it she reveals that she'd rather be rich than famous and that she has super secret hockey skills. Huh, how about that. Here are highlights:
On what her mom taught her: "That was definitely the way that we were raised by my mom. She always taught us to be polite. We had the best manners, so I've kept them...'Put your shoulders back and don't chew gum.' My mom has always been really supportive. She's one of my best friends. And she's just always told me to stay the same and stay the sweet girl I've always been since I was little and not let any of the Hollywood stuff get to my head, and you'll leave a good karma."
On being one of the 'bad girls': "Yeah, you know, that's just a stereotype they've come up with. And that's fine, but I'm not a bad girl [laughs]...I handle it really well. I don't let that bother me or let the media or paparazzi take over my life. I try not to pay attention to things that are negative."
To read more of Paris' interview just
On being a hottie/nottie: "I think we're humans. All girls feel like a "nottie" some days—like someone who isn't turning heads. That's just part of life. I just get a facial or a massage. Pampering yourself gets you back into "hottie"-ness...You only live once, and you want to make it as best a life you can have. And I feel like, if people are confident and believe in themselves, that they can all be "hotties." If you're single and you want to go dating and have fun and be young and whatever, just go and get a makeover."
Rich vs. Famous: "I think it would be better just to be rich, because then you don't have to deal with anything else. You can just have everything you want and not have to deal with the press and people following you...But being rich doesn't even matter, either. I have both, and it doesn't even make any difference. I could be happy if I had nothing. So it's not, it's not really about money to me."
On her secret skills: "I'm really good at ice hockey. I've been playing since 10th grade, and people don't know that I play defense in hockey. I like to check people, push people down...And I love fishing. I like to catch them, but I don't eat them. I just put them right back, because I feel bad for them."
She also says she has plans to guest star on The L Word, so maybe she was just doing research in NY last week. I guess this means the acting thing is still going strong with Miss P — you know, not that it matters at all if she's rich...or famous...