Paris & Nicole Are Happy Campers Again
Paris & Nicole Are Happy Campers Again
Can you believe Nicole and Paris did an AP interview? We can't either but the BFF were promoting the 5th season of The Simple Life and some of the quotes were so funny we just had to share them. Here's more: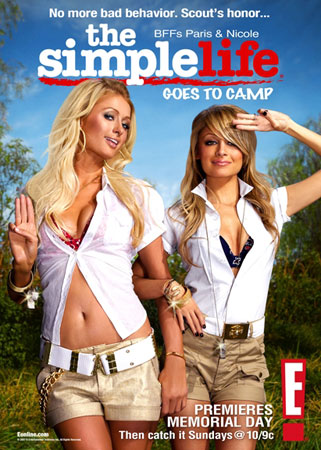 On how they prepared for camp
Richie: We actually didn't prepare, which I guess was a problem because we were wearing heels and just not camp-appropriate things. But during the fitness camp we wore sweats a lot which was a nice break.
On the camping experience:
Hilton: I think just being the camp counselors is being a lot different from actually having to go to camp as a kid. But I don't know. I didn't really like the camp life either. I'd rather go to Europe for the summer.
On the success of The Simple Life:
Richie: I think that originally people thought "Oh, this is going to be about two spoiled blond girls that don't know how to do anything and make fun of people," and that's not what it's about. If anything, we're making fun of ourselves. We're very different. We're very opposite, so it's a good balance, you know, between the two... She has strengths where I have weaknesses and I have strengths where she has weaknesses and it really creates a good dynamic.
For some reason, we're not surprised that Paris and Nicole didn't take well to roughing it in the wilderness - if they showed up as our camp counselors, we'd probably be asking for our money back.