Paris Shows off her Stash?
So first Paris gets busted for a DUI, then gets into a cat fight with Travis Barker's ex, and now she gets caught showing off her weed?? We know from the past that Paris likes to wake and bake, but it seems she enjoys the activity by night as well. Her publicist is insisting that what Paris accidentally showed off in her handbag may not be what you think... you be the judge. Here's more: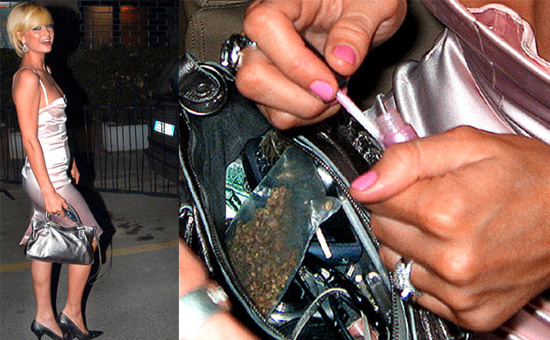 The fast-living hotel heiress accidentally gave observers a glimpse of the clear plastic wallet, containing what might be mistaken for cannabis, at a Milan fashion show last week. But last night her publicist Elliot Mintz insisted: "Things are not always as they appear. It would be unfair to draw any conclusions based solely on these photos."

It is not the first time the 25-year-old socialite has faced questions over her lifestyle. In June she was seen smoking what appeared to be a cannabis joint outside a Los Angeles nightclub. At the time, Mr Mintz insisted: "I just want to get something clear with you. Paris Hilton rolled her own tobacco cigarette. It was tobacco that you saw."