Paris Update: She's In Handcuffs, On Her Way to the Courthouse
Paris Update: She's In Handcuffs, On Her Way to the Courthouse
In case you were wondering what Paris is up to right this second...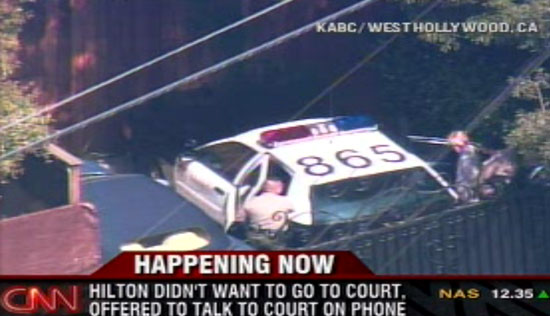 This morning Paris was set to "appear" in court via telephone to discuss her "reassignment" to house arrest with the Judge and City Attorney working on her case. Judge Michael T. Sauer then demanded that Paris show up in court in person for the hearing which was scheduled for 9:00 AM Pacific Time.
At 10:00 AM the sheriff's escort arrived at Paris' house to pick her up, the delay being caused by more fighting between the Judge and the Sheriff's office. Minutes later Paris was escorted out of her house in handcuffs (seen here) and put in the back of the cop car. She is currently being driven to the courthouse...
Obviously, the story is developing...Stay tuned!
Update: Paris is in the courthouse...