Patrick Dempsey has kicked 2007 off to a fabulous start! He's been out promoting his new movie Freedom Writers, took home a People's Choice Award and tonight Grey's Anatomy returns with an all new episode. Check out a preview here. In the latest issue of Life Magazine, Patrick dishes the dirt on life as a father and husband, getting back into work and his chemistry with Ellen Pompeo. Here's more: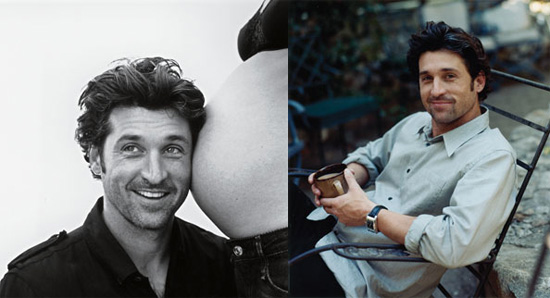 LIFE: In what ways has fatherhood changed you?
DEMPSEY: Now making money is about providing for my children. And being a father makes you look at yourself. You look at your marriage and go "How do I improve this? How do I keep growing and create a stable environment for my children?"

LIFE: So how do you and Jillian work on your relationship? Are you in couples' therapy?
DEMPSEY: Yeah, we go in for checkups and go "Hey, here's what we need to work on." We've had a very good relationship from the beginning [the Dempseys have been married since 1999], but you run into things you have to work through. And [therapy] is easier than fighting with someone.

LIFE: You went through a 10-year period when it was difficult for you to get work.
DEMPSEY: My agents would say "You have to go in and read for this part." And I'd say "You have no idea what it takes for me to go in there positive. It takes me two days to get psyched up for it."

LIFE: Luckily, you and Ellen Pompeo must have had great chemistry during your audition.
DEMPSEY: They didn't offer me the part. I got it because Rob Lowe turned it down. But first I had to test with her, so she had all the cards. She was very attentive during my audition, and I felt . . . welcomed. Also, she had a Boston accent, and I'm from Maine. I found that endearing.
Love that he's just such a down-to-earth guy who's thankful for all that he has. It's refreshing to see a celebrity so appreciative. More of Patrick posing for the pages of Life so read more