Patrick Didn't Let Dyslexia Stop Him
Patrick Didn't Let Dyslexia Stop Him
How cute are these two? Patrick obviously doesn't let Grey's get in the way of spending time with his daughter Tallulah Fyfe. He spent his birthday taking a ride with her. That's just one of the benefits of working as part of an ensemble cast (which, in case you missed it, scored best drama at the Golden Globes). Patrick's latest film Freedom Writer is about a teacher who helps kids in a gang-infested high school realize their potential. Patrick said he could relate to the frustrations of the kids in the movie. He was diagnosed with dyslexia at the age of 12 and ended up dropping out of high school. Here's more: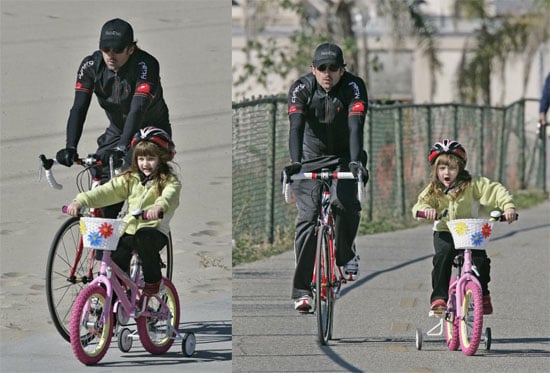 How do you think this affected you?
DEMPSEY: I didn't really start my education until I dropped out of high school. Because of acting, I had to learn to work through my reading issues. I had private coaching. If I couldn't read a line, I had someone tell it to me. Once I had it, I could run with it. I still do that. . . . What I don't like about Grey's Anatomy is they never give you the script until the last minute. I fight those anxieties every time I sit down for a table read-through. So I'm not completely over it.
Does education worry you, as a parent?
DEMPSEY: It concerns me now with my children. How do I develop them and their learning styles? Reading to my daughter has been therapeutic. I've gone back and started to learn to read on a very basic level. I'm reading Dr. Seuss, and I'm healing that part of myself, as well as developing my daughter.
It's great to know that he's turned a negative experience into a positive one for him and his daughter. And he's going to have a few more little ones to read to pretty soon. He and his wife are expecting twins!