Penelope Gives Props to her Pal Pedro
We've been hearing great things about Penelope's new (even though she seems to have been promoting it for years now) movie Volver. She has been generating Oscar buzz and has now won the award for Best Actress at the 2006 European Film Awards. In her acceptance speech, a misty-eyed Penelope dedicated her award to Pedro Almodovar, the director of Volver and her personal mentor. Here's more: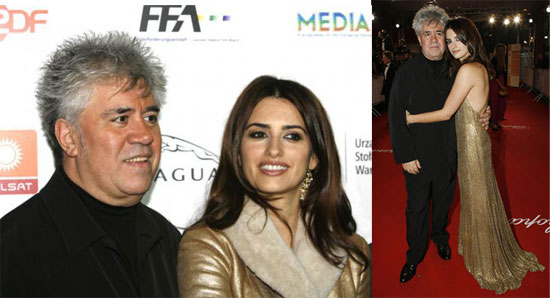 [Penelope], whose feisty performance as Raimunda in the dark comedy is garnering Oscar buzz, picked up the Best Actress title at the European Film Awards in Warsaw. Wearing a glittering gold gown, the star held back tears as she talked about working with her mentor.

"Pedro, I love you so much," she said. "Thank you for believing in me. You're changing not only my career, but a lot of things in my life."
Looks like these two love working together since they just signed up to do another film called, The Skin I Live In. Looks like Pedro found his muse. For more pics of Penelope and Pedro just read more