The People Choose Their Nominees
The 2007 People's Choice Awards nominees were announced today by Isaiah Washington and Neil Patrick Harris. Luckily nothing went down between these two, but Isaiah did have to read Patrick Dempsey's name for Favorite Male TV Star. Other nominees included Jen and Vince for favorite on screen duo, Matt Damon for Favorite Leading Man and Favorite On-Screen Match-Up with Leo in The Departed. Congrats to all and vote now so you can see your winners be announced on CBS on Jan 9th.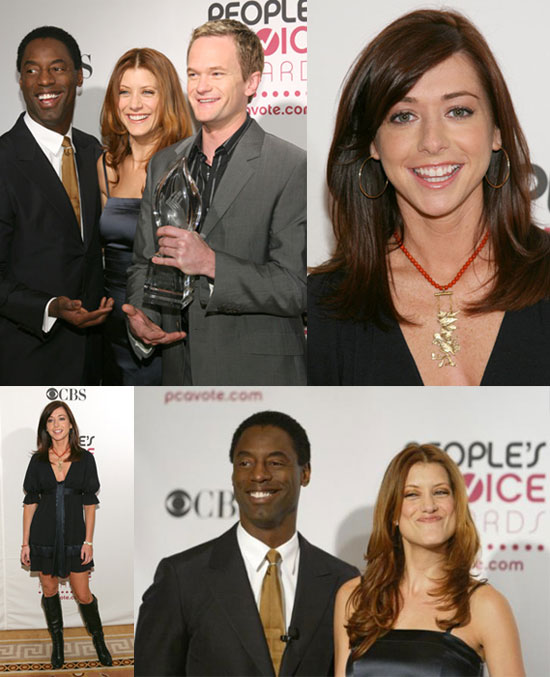 We are loving Alyson's adorable look. To see how to get her look, click here. For a complete list of nominees and more pics of Alyson, Kate Walsh and the boys, just read more
Movies
Favorite Female Movie Star: Jennifer Aniston, Halle Berry, Sandra Bullock
Favorite Male Movie Star: Johnny Depp, Tom Hanks, Denzel Washington
Favorite Leading Lady: Cameron Diaz, Kirsten Dunst, Scarlett Johansson
Favorite Leading Man: Matt Damon, Brad Pitt, Vince Vaughn
Favorite Female Action Star: Kate Beckinsale, Halle Berry, Uma Thurman
Favorite Male Action Star: Johnny Depp, Samuel L. Jackson, Jet Li
Favorite On-Screen Match-Up: Jennifer Aniston and Vince Vaughn, The Break-Up; Matt Damon, Jack Nicholson and Leonardo DiCaprio, The Departed; Johnny Depp and Keira Knightley, Pirates of the Caribbean: Dead Man's Chest
TV
Favorite TV Comedy: The King of Queens, My Name Is Earl, Two and a Half Men
Favorite TV Comedy – Animated: Family Guy, King of the Hill, The Simpsons
Favorite TV Drama: CSI: Crime Scene Investigation, Grey's Anatomy, House
Favorite Competition/Reality Show: American Idol, Deal or No Deal, Extreme Makeover: Home Edition
Favorite Female TV Star: Jennifer Love Hewitt, Eva Longoria, Julia Louis-Dreyfus
Favorite Male TV Star: Patrick Dempsey, Charlie Sheen, Kiefer Sutherland
Favorite Talk Show Host: Ellen DeGeneres, Jay Leno, Oprah Winfrey
Music
Favorite Female Singer: Faith Hill, Shakira, Carrie Underwood
Favorite Male Singer: Trace Adkins, Kenny Chesney, Toby Keith
Favorite Group: Black Eyed Peas, Nickelback, Red Hot Chili Peppers
Favorite R&B Song: Christina Aguilera, "Ain't No Other Man"; Justin Timberlake, "SexyBack"; Mariah Carey, "Shake It Off"
Favorite Hip-Hop Song: Nelly, "Grillz"; Chamillionaire, "Ridin'"; Eminem, "Shake That"
Favorite Pop Song: Shakira, "Hips Don't Lie"; Nelly Furtado, "Promiscuous"; Pink, "Stupid Girls"
Favorite Country Song: Carrie Underwood, "Before He Cheats"; Rascal Flatts, "What Hurts the Most"; Tim McGraw, "When the Stars Go Blue"
Favorite Rock Song: Evanescence, "Call Me When You're Sober"; Red Hot Chili Peppers, "Dani California"; Bon Jovi, "Who Says You Can't Go Home"
Miscellaneous
Favorite Funny Female Star: Ellen DeGeneres, Julia Louis-Dreyfus, Queen Latifah
Favorite Funny Male Star: Will Ferrell, Adam Sandler, Robin Williams