People Gets Paris Post Prison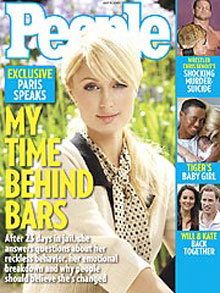 Tonight Paris will have her first post jail interview on Larry King (live chat anyone? We'll be here) but for her print debut, People landed the exclusive. The photo shoot (with touched up roots and extensions) includes an interview from grandpa's Bel Air mansion - her first stop after jail. Paris dishes on her medical condition, her fellow inmates and more. This is just step one in her reinvention makeover to be a changed woman. For all of those that doubt her change, Paris said, "They're wrong and they don't know me. I'm a good person. I'm a compassionate person. I have a big heart. I'm sincere, and they'll see."
On the other side of the newsstand, Us Weekly is declaring a Paris ban (we'll see how long that lasts). Perhaps they're just a bit heartbroken after all those years of supporting the heiress since they did not get the exclusive.