Pete Doherty: Next Top Model?
Kate and Pete seem to be trading careers these days. First Kate has her eyes on a music career and now Pete has got himself a modeling gig. He has evidently agreed to model clothes for cult fashion label Gio-Goi, including this little number that says drug free. How's that for an ironic t-shirt? Here's more: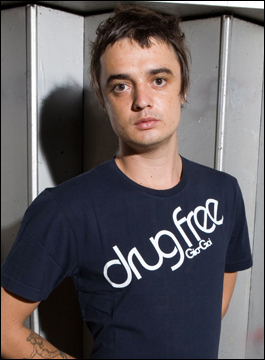 [Pete] will wear the brand's exclusive designs at a planned gig in a secret London location before Christmas.

Gio-Goi, which dresses members of the music industry such as The Streets, Arctic Monkeys or the Paddingtons, in a statement called Doherty the inspiration behind its rock 'n roll spring/summer 2007 collection.

"Peter looks fantastic as a model," Gio-Goi co-founder Anthony Donnelly said. "We are very excited ... we look forward to having Pete's influence as a rock icon in the design process."
I don't know if fantastic is the adjective I would use but sober is a start and he seems to be looking better these days. Hopefully he'll actually do as he is advertising.