Pete to be Questioned in Friend's Death
Pete to be Questioned in Friend's Death
Things just keep getting worse and worse for Pete. The day before he was fined for his latest drug arrest, he evidently got in a huge fight with a friend who later fell to his death from a three story balcony. Pete is said to be distraught and the death is still under investigation. Here's more: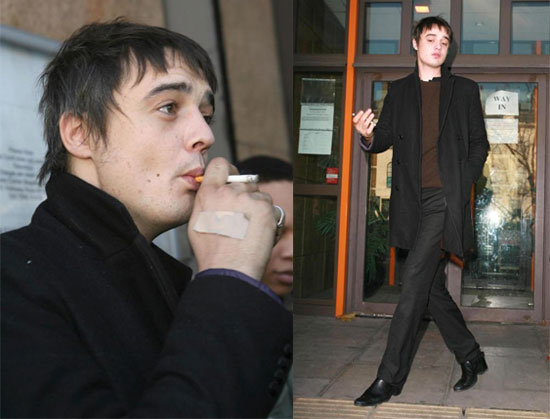 Actor Mark Blanco, 30, was found dying in the street after falling 30 feet from the balcony of a block of flats in Whitechapel after he was allegedly attacked. The Babyshambles star is said to have spoken to Mr Blanco earlier and had tried to calm him down. Mr Blanco had been celebrating landing the lead role in Accidental Death Of An Anarchist, a play about a man who dies in a fall from a police station window.

Paul Roundhill, 52, who describes himself as Doherty's literary agent and who lives at the flat, denied reports that Doherty had had an argument with Mr Blanco. He said: "Peter wasn't involved at all. He is distraught at what happened. There was no fighting, Peter wasn't involved in any way apart from to help and to calm Mark down before the accident. They didn't have an argument.

"Mark was talking to Peter very excitedly about his play. Mark, who is very much loved by many people, arrived in a highly excited state because of his forthcoming play. This was a talented person whose loss is devastating."

Neighbours claimed today they heard a struggle and screams before Mr Blanco fell. A resident who did not wish to be named said: "People heard struggles and a scream. We heard initially lots of swearing and people saying 'f*** off'. Then there was a massive struggle, a loud scream, and then this guy landed on the floor."

Doherty....had left the flat by the time police arrived.

Detectives want to talk to everyone who was there and Doherty expects to be questioned but there is no suggestion he had anything to do with the death.
Sounds pretty suspect. But even if he has nothing to do with it, it's obvious he hangs out with some pretty sketchy people. Get out Kate! Get out while you can! For more pics of Pete walking the streets as a free man, read more