Peter Dinklage Emmy Press Room Interview For Game of Thrones
Peter Dinklage Talks Loving Game of Thrones and Why He Thanked His Pet Sitter in His Emmy Speech
Peter Dinklage celebrated his Emmy win for best supporting actor as Tyrion on Game of Thrones, and the actor stopped by the press room to chat. Dinklage shared some insider info about the direction of the series, how he was resistant to working in TV until Game of Thrones, and why he'll probably get in trouble for thanking his pet sitter in his acceptance speech.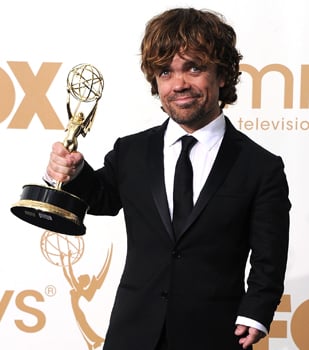 On being perceived as cool: "It's from being terrified on the inside. It's all a fake show. I feel very uncool all the time. So I guess, thank you."
On which characters we should expect to be killed off: "Everyone. If you've read the books you wouldn't be as surprised. That's the great thing about this show. The villains live and the heroes die. It's unexpected."
On how closely the show will follow the books: "We have to change some things for television. You can't do a lot of what's in the books because we don't have the budget, or the time. But we'll keep faithful to the original story and what happens, and which characters live and die."
On his reaction to seeing a YouTube clip of his character slapping Joffrey: "It's terrible. It's awful."
On thanking his pet sitter in his acceptance speech: "She's an important person in my life. I mentioned her but not my manager or anyone really responsible for getting me this job. So, you know, it might be funny and witty . . . or not. It comes at a price, I think. My mom won't be really happy about that."
On what he's learned from being on Game of Thrones: "I've learned to really love being on a TV show. I fought it for a long time. I get so excited to go to work and I get so excited to read the new scripts. I don't just skip to see my part."
Stay tuned to Buzz for more press room coverage from the Emmys!