Petra Hosts Her Happy Hearts in NYC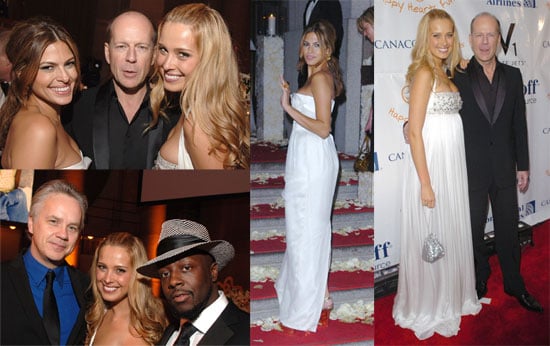 0
Petra Hosts Her Happy Hearts in NYC
Last night Petra Nemcova's charity Happy Hearts hosted the Heart of Gold Ball in NYC. Bruce has been a long time supporter of Petra's charity but based on the rumors of these two, he may just be a supporter of Petra. Unfortunately for her, Bruce was not looking his coolest. The attire called for white or gold for the ladies while the men were simply told black tie. As you can tell, Tim Robbins took that to mean blue attire. He seemed to be in a particularly cheery mood. Perhaps something to do with the deal with Showtime?
Performer of the night, Wyclef went for a checkered black and white look while Eva Mendes looked gorgeous in white for a second night in a row. Check out Bella to see how to get her beautiful look. Petra looked very pleased with the turn out and we bet she raised some fabulous funds to help those children in need.
For more of Petra, Bruce, Uma Thurman, Damon Dash and more just
Images include Bruce Willis, Damon Dash, Eva Mendes, Petra Nemcova, Russell Simmons, Uma Thurman and Wyclef Jean.