Photo of Fergie and Josh Duhamel's Wedding
First Photo of Fergie and Josh's Wedding!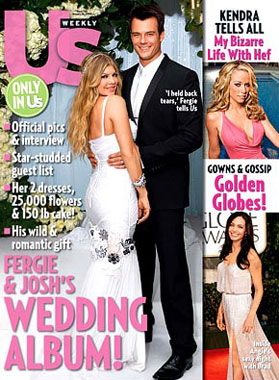 Fergie and Josh Duhamel got married last Saturday and here's the first photo from their wedding! Fergie looks lovely in this gown which was apparently only one of the two Dolce and Gabbana dresses she wore for her big day.
When she was walking down the aisle Josh joked he said to himself, "Keep it together, you big baby" and when their traditional ceremony was done Fergie yelled "I'm married, bitches!" while the crowd cheered. Sounds perfectly Josh and Fergie keeping their wedding fun for everyone before heading off to their honeymoon. You can check out even more photos in the new issue of Us Weekly. Congratulations to the happy couple!