Photo of Jessica Alba and Her Baby Honor Marrie Warren
Introducing Jessica Alba's Baby Honor Marie Warren!
As expected, OK! Magazine has the first photos of baby Honor with her mom — both of whom look gorgeous! The issue also includes an interview with both parents where they talk about which one of them she takes after and Jessica's natural child birth! Here are some highlights: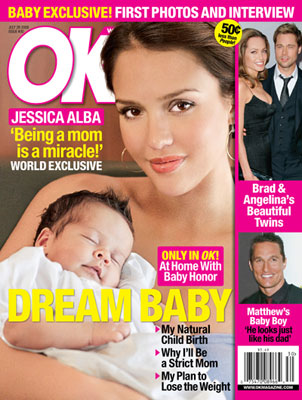 On having a daughter: "It hasn't totally sunk in. She dreams, she smiles, and coos and does all these things, but she hasn't seen enough of the world yet to understand any of that stuff. So I still feel like she's connected to the other world, or something. There's no other way to explain it. It's a miracle."
On her natural childbirth:"The labor was more like meditation. I did yoga breathing. I was focused. [...] I didn't scream. It was really Zen."
On her post baby bod: "I started working out last Thursday, but for 20 minutes. I do cardio on my own. I'm doing it slow. Now I'm starting to eat more healthy. Because after working out, having fried chicken and mashed potatoes is a little counteractive."
On Honor's looks: Cash: "She looks like a girl version of me. She has my nose, my eyebrows and my..." Jessica interrupts: "Forehead and dimples. She has my mouth when I was a baby. And my ears." Cash: "Maybe Honor is a mixture. I want her to look like me, because a daughter looking like Jessica, I'd kill myself!"
So cute! Check out the issue on newsstands tomorrow to see more photos and read more from Honor's parents. We all know OK! magazine has to make some money to start paying all the baby stars that are scoring millions from them.