Photo and Video of Kristen Stewart and Taylor Lautner Talking About New Moon For Entertainment Weekly
Taylor Replaces Robert in the Spotlight With Kristen
Kristen Stewart and Taylor Lautner cover the latest issue of Entertainment Weekly as they continue promoting the much-anticipated New Moon. Kristen talks about her BFF chemistry with Taylor, while Robert Pattinson chats about his feelings on downsizing Edward's role, which already has most of you wanting more. Here's more: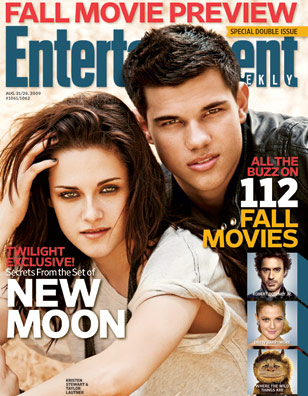 Kristen on Taylor keeping his role as Jacob: "It's completely understandable why they wanted to make sure he was right. He was so young, 16, so I got it. But I knew he had [to do] it. Just because of how I felt around him. We have that [best friend] relationship. It's lamely cute."
Taylor on beefing up: "My body fat got so low that we actually needed to increase it a little bit. My trainer would be like, 'Go have a huge milk shake just so I can get a thousand calories into your body.""
Robert on his downsized role: "It was a stress-free job for three months. All the pressure was on Taylor."
Kristen on New Moon: "[Making Twilight] was much more of a fight. We needed to make something commercial but stay true to the book. We didn't have enough money. It was all very impulsive, and that's what I love about that movie . . . But I think New Moon is gonna be even better."
To see the video of Taylor and Kristen talking about the movie and each other just read more.