Photos of The 2009 CMA Awards Taylor Swift, Carrie Underwood, Nicole Kidman, Keith Urban 2009-11-12 06:00:00
Country Shines Bright and Taylor Cleans Up at the CMAs!
Last night we gave you a taste of the CMA Awards, and now here's the whole set! For the younger women, it was all about the shine on the red carpet from Taylor Swift's typical beautiful sparkly gown to Carrie Underwood's mirrored number. Carrie was one of the hosts of the night along with Brad Paisley, so once she stepped inside it was all about the costume changes for her. Nicole Kidman had nothing but love for her husband Keith Urban, who was a nominee. Faith Hill and Tim McGraw always look classic together and this was no exception.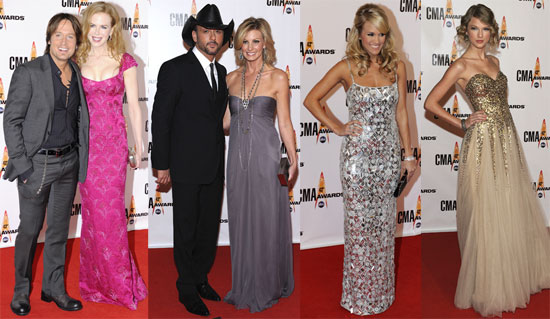 Taylor kicked off the show with a wild performance of "Forever and Always" where she threw around her long blond hair as she sang. There were no semi-subtle kisses for Taylor Lautner this time, but the two have a lot to celebrate next time they see each other — she won the biggest award of the night, Entertainer of the Year! She also won for female vocalist of the year, album of the year and music video of the year for "Love Story." Carrie Underwood walked away empty handed, but she and Brad Paisley did a great job hosting the show which included a few jokes at the expense of Kanye West. Kid Rock and Dave Matthews Band were also among the performers at the fun country-filled award show.
For TONS more photos from the CMA Awards just read more.
Images include: Nicole Kidman, Keith Urban, Carrie Underwood, Faith Hill, Wynonna Judd, Tim McGraw, Reba McEntire, Taylor Swift, Brad Paisley, Naomi Judd, Kellie Pickler, Kimberly Williams, Darius Rucker, Kid Rock