Photos of 2009 ESPY Awards Red Carpet and Show
Michael Phelps Cleans Up at the Star-Studded ESPY Awards
Many celebs hit the red carpet last night at the ESPY awards in LA to honor the stars of the sports industry. Samuel L. Jackson was the evening's host, and he kept the audience laughing with his jokes about Twitter. Zachary Quinto took the stage looking dapper in his suit, while Miranda Kerr smiled for photos before the scary robbery at Orlando Bloom's house. Demi Moore was also on hand to present Michael Phelps with one of his five awards. It might not have been as snazzy as last year's Justin Timberlake's ESPY hosting gig, but the athletes and stars looked fantastic for the sports-filled night.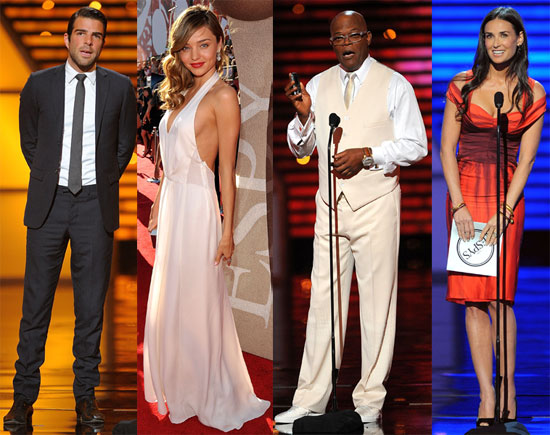 Michael wasn't the only one getting trophies — Hollywood's beloved Lakers won Best Team. Other presenters included Rashida Jones and Jeremy Piven, while funny men Andy Samberg and Seth Meyers watched alongside Billy Crudup. The festivities are set to air Sunday evening on ESPN.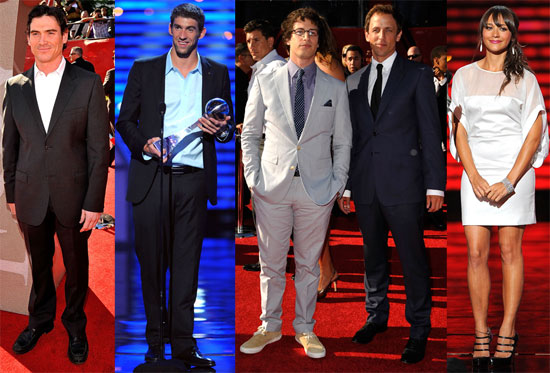 To see lots more photos including Kendra Wilkinson, Rob Lowe, Jeremy Piven and others just read more.
Images include: Andy Samberg, Jaime Pressly, Kendra Wilkenson, Kobe Bryant, Michael Phelps, Rashida Jones, Samuel L. Jackson, Seth Meyers, Wyclef Jean, Shawn Johnson, Miranda Kerr, Billy Crudup, Condoleezza Rice, Zachary Levi, Demi Moore, Zachary Quinto, Jeremy Piven, Marisa Miller, Olivia Wilde, Rob Lowe, Stevie Wonder, Will.i.am