Photos of the 2010 Independent Spirit Awards Including Carey Mulligan, Ryan Reynolds, Lenny Kravitz 2010-03-07 08:45:18
Precious Ladies and Lenny Lead the Way With Carey, Maggie and More at Independent Spirit Awards!
Friday marked the 25th anniversary of the Independent Spirit Awards, which they celebrated by airing it live for the first time. The precursor to today's Oscars is always a looser affair, but the red carpet had its own impressive ensembles — vote on them with all of Fab and Bella's love it or hate it polls. Lenny Kravitz had a Hollywood up-and-comer, his daughter Zoe, on his arm to support his movie Precious. Carey Mulligan was solo, which is apparently her plan for today as well, which dashes our hopes that she'd bring her cute boyfriend Shia LaBeouf. Vera Farmiga was representing the Up in the Air cast in her red dress.
The winners were able to have a bit of fun both mingling with friends during the big dinner and on stage where anything goes. Mo'Nique and Gabourey Sidibe both took home statues for their work in Precious, which was the night's big winner — see the full list on Buzz. While Mo'Nique is the favorite for tonight as well, in the press room she said she isn't expecting anything. Ryan Reynolds and Maggie Gyllenhaal carried their champagne on stage, and she was also called up to join her Crazy Heart costar Jeff Bridges when he was named best actor. Colin Farrell embraced Elton John as he entered the awards right as they started. During the show, Jeremy Renner checked out the backstage gifting suites and Elle Lounge. Award season's big finale is tonight, and we'll be updating live here and on PopSugar's Twitter from the red carpet and press room!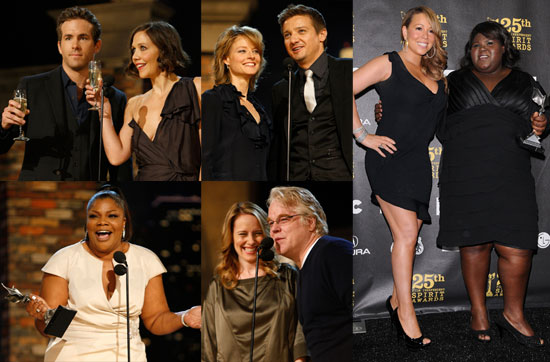 To see lots more from the show including Elton John, Adrien Brody, Amy Adams, Dave Grohl, Regina King, Jason Bateman, and many others just
.
Image include: Adrien Brody, Amy Adams, Benjamin McKenzie, Brittany Snow, Carey Mulligan, Colin Firth, Emile Hirsch, Emmy Rossum, Gobourey Sidibe, Gilles Marini, Helen Mirren, Jason Lewis, Jeff Bridges, Jennifer Grey, Jeremy Renner, Jodie Foster, Laura Dern, Lenny Kravitz, Zoe Kravitz, Maggie Gyllenhaal, Peter Sarsgaard, Mariah Carey, Matt Dillon, Mena Suvari, Mia Wasikowska, Mo'Nique, Sidney Hicks, Olivia Wilde, Pierce Brosnan, Rosario Dawson, Maria Bello, Taraji P Henson, Vera Farmiga, Phillip Seymour Hoffman, Ben Stiller, Ethan Hawke, Colin Farrell, Dave Grohl, Regina King, Jason Bateman, Ryan Reynolds, Marisa Tomei, Elton John, Will Arnett, Ed Helms