Photos of the 2010 Oscar Ceremony Including Sandra Bullock, Kristen Stewart, Mo'Nique, and More 2010-03-08 00:53:47
The Oscars Finish Award Season With Surprises, Tears, and Fantastic Moments!
The 2010 Oscars have come and gone with The Hurt Locker standing out as the night's big winner. The acting awards went to this season's favorites — Sandra Bullock for The Blind Side, Mo'Nique for Precious, Jeff Bridges for Crazy Heart, and Christoph Waltz for Inglourious Basterds. The show kicked off with Neil Patrick Harris's opening number, which was the perfect lead-in to Alec Baldwin and Steve Martin playing off each other throughout the night. Young Hollywood had an exciting evening as well with presenters including Taylor Lautner and Kristen Stewart, who both chatted backstage about being a bit nervous before stepping out. Kristen got to have a moment with her dad on the way in, which gave us a super sweet sighting. Zac Efron and Anna Kendrick also made a sweet duo giving out a statue together.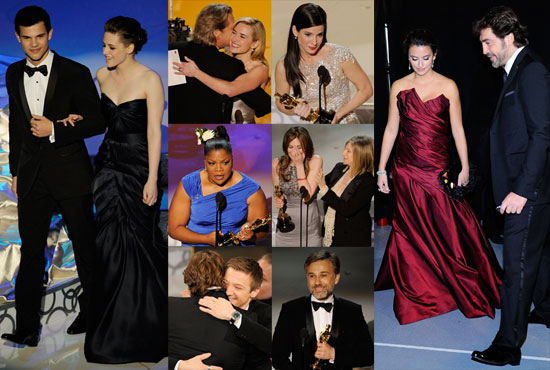 The Academy Awards red carpet provided some excitement, of course, and the acceptance speeches had us laughing and crying as the winners took the stage. Penelope Cruz didn't make it two in a row, but she was holding hands with Javier Bardem when the cameras announced the best supporting actress nominees — that's a pretty big public display of affection for the private couple. Sarah Jessica Parker got animated in the crowd before Matthew Broderick took part in the touching tribute to John Hughes. Keep track of all our Oscar coverage all over the network, and weigh in on all the winners too!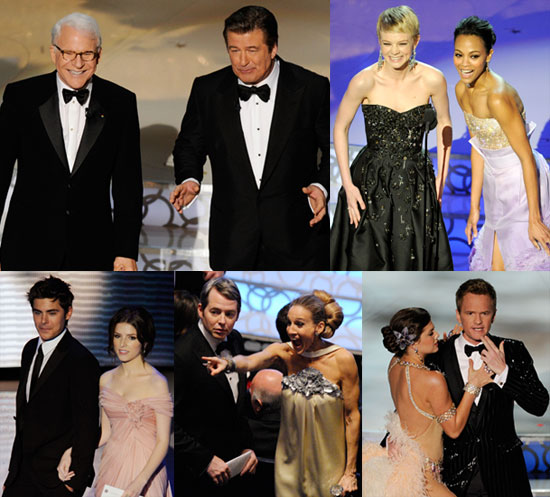 LOTS more photos from the show, so read more.
Images include: Sandra Bullock, Oprah Winfrey, Kathryn Bigelow, Alec Baldwin, Steve Martin, Mo'Nique, Kristen Stewart, Taylor Lautner, Barbra Streisand, Penelope Cruz, Julianne Moore, Carey Mulligan, Zoe Saldana, Kate Winslet, Javier Bardem, John Travolta, Christoph Waltz, Jeff Bridges, Ben Stiller, Michelle Pfeiffer, Tom Hanks, Robin Williams, Sean Penn, Alec Baldwin, Gabourey Sidibe, Jeremy Renner, Stanley Tucci, Peter Sarsgaard, Helen Mirren, Jennifer Lopez, Sam Worthington, Anna Kendrick, Zac Efron, Taylor Lautner, Elizabeth Banks, Rachel McAdams, Jake Gyllenhaal, Charlize Theron, Sigourney Weaver, Ben Stiller, Miley Cyrus, Amanda Seyfried, Neil Patrick Harris, Demi Moore