Photos of Angelina Jolie, Pax Jolie-Pitt on the Paris Set of The Tourist
Angelina Jolie Gets a Visit on Set From Peeping Pax!
Angelina Jolie was in a now-familiar outfit stopping traffic on the set of The Tourist in Paris today. For lunch, she had a special visitor, Pax! The kids are taking turns visiting mom on set after Shiloh and Zahara came with Brad on Tuesday. It was a bit rainy on the set this morning, so Pax peeked out at Angelina from a window above before joining her on set for a big hug. The twins haven't been spotted out since the weekend, but Jon Voight talked to the press about his two youngest grandchildren. Jon seemed to be playing it coy but apparently opened up to Us Weekly from Venice saying, "It's nice to have something that's positive! It's a very beautiful trip. A lot of fun . . . I have baby pictures that are very resembling of Shiloh . . . I don't know about all the resemblances [with the twins], but obviously there are some because of the genes." He also made a point to say that things are good with Angelina and Brad, "Of course they are! You can see!"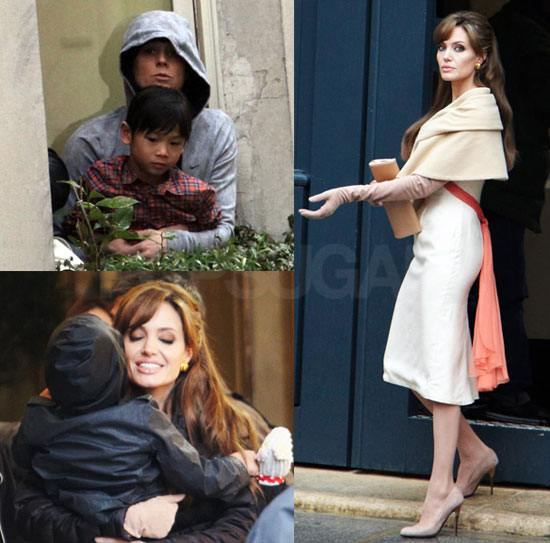 Lots more of Angelina on set so
.