Photos of Angelina Jolie Who Talks About Adoption, Her Family
Leggy Angelina Talks Racy Photos and Having No Regrets
Angelina Jolie looked amazingly leggy in her short black dress at yesterday's Kung Fu Panda DVD release celebration at Grauman's Chinese Theater in LA. The youthful looking actress posed with her costars in the movie Jack Black and Dustin Hoffman and chatted about her smiley twins. While she always has a big smile when promoting the animated film, she is still doing the rounds talking about Changeling. Unsurprisingly, her openness is her blessing and her curse in the latest interview. Here are highlights: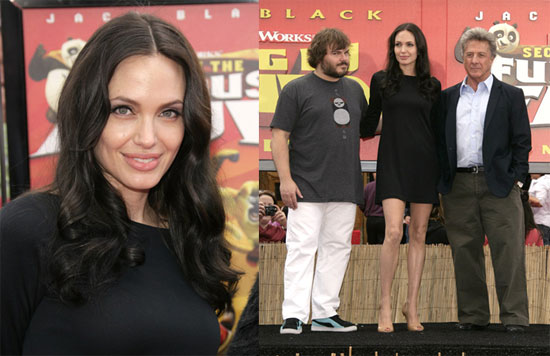 On talking about adoption: "We talk about orphanages, we talk about their countries and differences, and it's a source of excitement and pride. I've heard Maddox explain to Zahara when they are talking about pregnancy, 'No, Zee, remember, you were in that nice African woman's belly. I was in that nice Cambodian woman'."
On life: "I'm one of those people who believes you just can't regret things in life. You have to feel confident that it was all part of the journey . . . If you start to regret, start to hesitate and question every move to make, then you live in some different way," she says. "And for all the craziness I've done, I've never hurt anybody."
On the W Photo shoot: "I'd just had the kids six weeks before and felt so private, it didn't feel right having a photographer fly across the world with a rack of stylish clothes for me to wear. . . It became this one-week project in our house," Jolie says. The way she tells it, matters quickly got out of hand, and some of the photographs proved far too sexual to be released on an unsuspecting American audience. "Yeah, we thought about it, we'd look at the pictures as art and say this is a really interesting photograph, but then we'd know better and we'd think about how it was going to be received. So we made it a little more tame than it was originally."
To see lots more photos and read what she has to say about their family just read more.
On their family: "Early on when we met, we had this time when we were working together and we just spent it discussing how we saw our lives and what our plans were for the future. And there was a day when we both talked about wanting a large family. At the time I was thinking of only adoptive children, but he saw a big family mixed with adoptive and born children. And I ended up falling in love with a man who I think was destined to have children and suddenly one day it felt right and there it was."
On the kids growing up and finding out about her past: "I think it's going to be that they'll understand they can talk to me about everything, and that by the time they get to be teenagers we'll have formed a sufficient bond," she says. "We tell them everything, we're honest with them. My mother was that way with me."
When the kids grow up there will be plenty to read about both mom and dad, but they have nothing but love and sweet words for their big family. Well, other than when Brad is telling embarrassing stories on TV.