Photos of Anna Kendrick at LAX After Attending BAFTA Awards With Robert Pattinson and Kristen Stewart
Anna Kendrick Won't Be Texting With George Before the Oscars
Anna Kendrick had her hands full yesterday when she returned to LAX. She spent the weekend in London at the BAFTAs, where her Twilight costars Kristen Stewart and Robert Pattinson caused a stir by leaving an afterparty together. Anna will be reunited with Kristen in just a few weeks when both ladies attend the Oscars — don't forget to fill out Buzz's ballot with all your winner predictions! Anna, who's nominated for her role in Up in the Air, recently talked about the run-up to the biggest award show of the season and shared about her style and friendship with George Clooney. She said: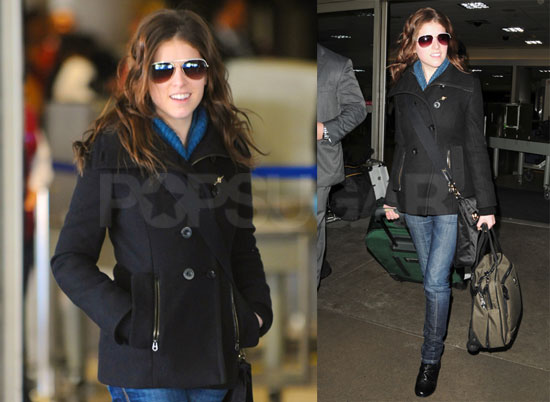 On her Up in the Air character: "I love her to pieces! You know, she was a nightmare, but I'll defend her to death . . . people don't really like her at the beginning of the movie, and they really warm to her when she kind of breaks down, but I really love her even when she's more or less an antagonist because she's really strong and really driven."
On George Clooney: "He's really supportive and has been incredibly kind and really sensitive to everything that I'm going through, but it's not like I text him in emoticons or anything."
On her personal style: "I am currently in sneakers, jeans and a big sweater, which I suppose is kind of my uniform — especially lately, because every day is, like, two different outfits that I can never wear again. I just want to wear my favorite jeans and my favorite hoodie all day."