Photos of Anne Hathaway and Adam Shulman Shopping in LA
Anne's Celebrating Valentine Day Before She's Crowned Queen
Anne Hathaway and Adam Shulman spent the morning casually shopping for furniture in LA. Anne's had an award-filled few weeks announcing the Oscar nominations and accepting the Hasty Pudding Pot award during Harvard's annual parade. Anne is a member of the ensemble cast of Valentine's Day — tomorrow's the last day to enter to win a private screening so don't forget to take the quiz — but she's also starting to gear up to promote the highly anticipated Alice in Wonderland. She recently talked about her role as the White Queen, saying: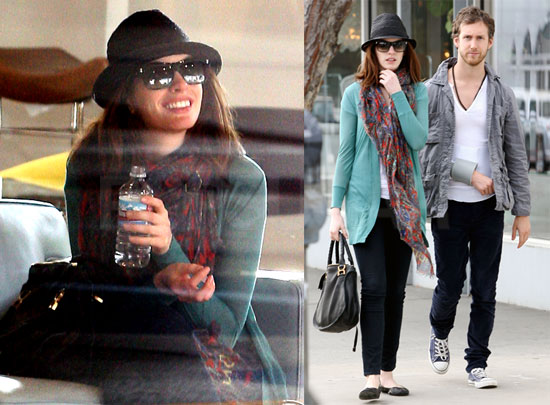 Anne on working with Johnny Depp: "He's so inventive—and he's kind, just a very kind, warm man. But to actually watch him in his element, in his zone, just acting, it's a thrill. I want him to do theater so that everyone else can get in on it. He's very powerful. I just felt very privileged to get to watch him."
More quotes from Anne and her role in Alice in Wonderland if you just, read more.
Anne describing her character the White Queen: "When I was trying to work her out, I kept saying to myself, 'She is a punk-rock, vegan pacifist.' So I listened to a lot of Blondie, I watched a lot of Greta Garbo movies . . . she just kind of emerged. And I really like her."
Anne on her decision to join the film: "I'm just going to be a gushy fan for a second. I love Tim Burton—he's one of my all-time favorite filmmakers . . . I knew it was going to be a very specific, very wonderful adventure. I love my character."