Photos of Ashton Kutcher, Taylor Swift, Mariah Carey, and More in the 2010 People's Choice Awards Press Room 2010-01-07 08:45:00
The People's Choice Winners Do the Press Room and Portraits
After their fun onstage moments at the People's Choice Awards, the evening's winners headed into the press room to pose with and chat about their newly-won statues. Buzz was there covering the scene, where Mariah Carey opened up about her work in Precious and a possible biopic. Hugh Jackman also shared his advice for Oscar hosts Steve Martin and Alec Baldwin while Sandra Bullock discussed her pre-awards show routine. Jessica Alba and Ashton Kutcher stayed together to celebrate his web celeb win, as Diane Kruger got cozy with her Inglourious Basterds guys BJ Novak and Eli Roth. Taylor Swift kissed the latest statue to add to her rapidly growing collection.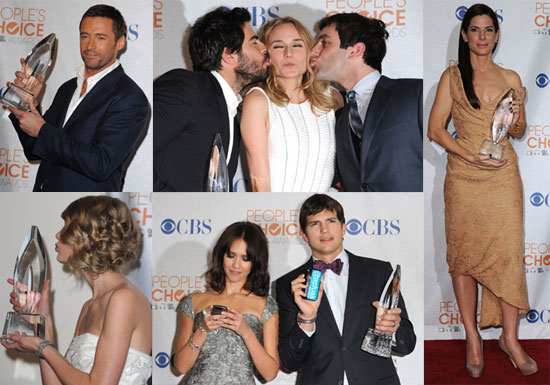 Mariah brought Nick Cannon along to hit the portrait studio, wrapping up another exciting if less champagne-filled night. The casts of House and Glee each crowded together for group shots. The other winners also stopped by to ham it up for the cameras in some of the night's cutest photos. There's more People's Choice Awards coverage coming up, including video of our red carpet interviews, more from the press room, and all of the night's fashion and beauty breakdowns!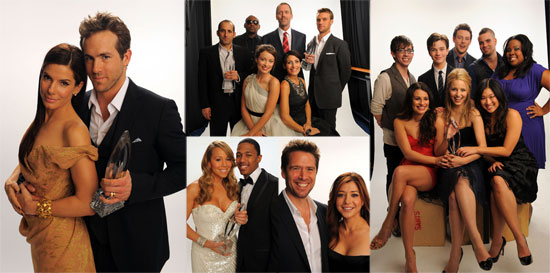 To see more from the press room, including the Glee cast and the stars of House, just
.
Images include: Alyson Hannigan, Jessica Alba, Ashton Kutcher, Taylor Swift, Carrie Underwood, Eli Roth, Diane Kruger, BJ Novak, Demi Lovato, Hugh Jackman, Keith Urban, Mariah Carey, Ryan Reynolds, Sandra Bullock, George Lopez, Alexis Denisof, Steve Carell, Nick Cannon, Peter Jacobson, Omar Epps, Hugh Laurie, Jesse Spencer, Olivia Wilde, Lisa Edelstein, Kevin McHale, Chris Colfer, Cory Monteith, Mark Salling, Amber Riley, Lea Michele, Dianna Agron, Jenna Ushkowitz