Photos of Ashton Kutcher, Zach Braff, Donald Faison, Sarah Chalke, and More at ABC TCA Presentation
Scrubs, Ashton, and Life on Mars All Go Big on ABC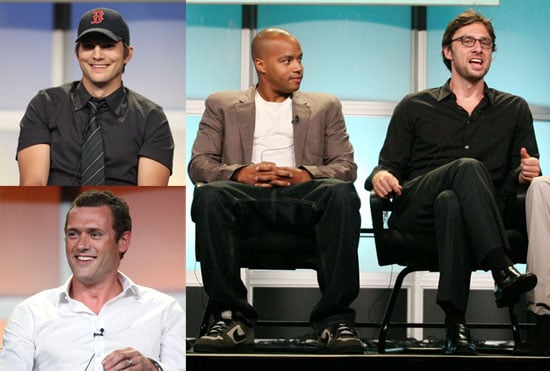 0
Scrubs, Ashton, and Life on Mars All Go Big on ABC
Yesterday was another fun one at the TCAs in LA! Buzz and I buckled down to enjoy the first day of ABC panels, which included some swoonworthy celebrity sightings including Ashton Kutcher and newly fit Zach Braff. Check out Buzz for full news on the shows, but here are my thoughts on the day, shows, and whether or not Jonny Lee Miller wants to talk about Angelina Jolie:
To hear more about the Scrubs panel and Ashton (!!) plus photos of the day just
When asked about his recent weight loss, Zach Braff talked about being in the best shape of his life thanks to a certain someone he met about a year ago. Hmmm . . .
The whole Scrubs cast genuinely seems like they love each other, which is such a treat — Braff and Donald Faison kept talking about being best friends. Guy love between two guys. Plus, Bill Lawrence was super excited for Courteney Cox to join the cast for a few episodes, and Neil Flynn (the Janitor) jokingly revealed that his characters real name is "Zanzibar Buck Buck McPhee".
Sigh, Ashton. Nothing I love more than a man in a Red Sox hat. He was there to present the new game show he's producing, Opportunity Knocks which, briefly, is a contest about how well you know details about your family. When asked how he would do on it, Ashton said Demi would do better than he would since women are more attentive and compassionate.
When asked about whether the show was his idea, Ashton talked about no one "owning" ideas and how we're just lucky to be able to "manage" them. He also talked about having no regrets about Punk'd, but enjoying doing something more family friendly fun too. So sweet hearing him talk about his girls, awww!
Images include: JD Roth, Ashton Kutcher, Jason Goldberg, Karey Burke, Donald Faison, Zach Braff, Bill Lawrence, John C McGinley, Sarah Chalke, Neil Flynn, Michael Imperioli, Andre Nemec, Jason O'Mara, Julianna Hough, Loretta Devine, Jonny Lee Miller, Greg Berlanti, Jason George, James Saito, Julie Gonzalo, Victor Garber, Natasha Henstridge, Sam Jaeger