Photos of Audrina Patridge in Maxim October Topless and in Bikini With Cupcakes
Sorority Girl Audrina Strips Down to a Bikini and Less
Audrina Patridge went all out for the October cover of Maxim, showing some serious skin by going topless on a washing machine and seductively snacking on cupcakes. She's even giving Heidi's Playboy shoot a run for its money in the revealing department. She's promoting Sorority Row, which she loved filming. Audrina also talked about her love life, leaving The Hills, and her upcoming new show. Here's more: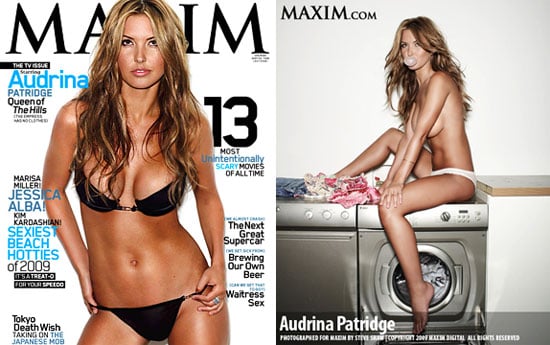 On the craziest thing she's heard about herself: "That I have chin implants, cheek implants, a nose job . . . God, everything."
On speculation about her love life: "I took my brother out one night, and he was my boyfriend the next day. I went out with a cousin another night, then he was my boyfriend. Someone also said I was pregnant with somebody's love child. I was like, 'Do I look pregnant?'"
On leaving The Hills: "You know, it's just something that I felt inside. I'm an adult now, and I don't need all the petty drama and drinking and fighting. I've done that, and I'm ready to move on. [My new show] is a behind-the-scenes look at my life in L.A. — the movies and shoots and parties. It's not as glamorous as it appears, plus it'll actually feature people I know. It's, like, real."