Photos of The Bachelorette's Ali Fedotowsky With Roberto
The Bachelorette's Ali Fedotowsky Takes Her Ring and Man Out to Celebrate!
The Bachelorette's Ali Fedotowsky made her big decision last night, picking Roberto as her fiancé — are you surprised by her choice? The pair headed to LA's Capitol City restaurant to celebrate their big announcement, and she was already flaunting her $50,000 Neil Lane engagement ring. You preferred her other finalist, Chris L., but Ali seems smitten with Roberto, and they're planning to move in together. Chris, though, doesn't have any hard feelings after being dismissed from the show. He said, "Everyone is pitting Roberto against Chris and meanwhile the two of us are very good friends." Ali and Roberto also made a stop by Jimmy Kimmel Live yesterday to talk about their wedding — check out that video after the jump.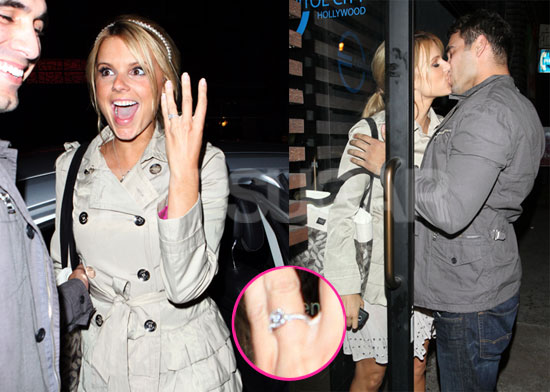 To see more photos of Ali and video with Jimmy Kimmel, just read more.