Photos of Beyonce in a Bright Jumper and Traditional Samba Costume in Brazil
See Beyonce's Fierce Abs in a Traditional Brazilian Outfit!
Beyonce gave us a peek at her toned stomach earlier this week but that was timid compared to seeing her ripped six-pack in a traditional Brazilian Samba costume while filming the "Put It In a Love Song" video with Alicia Keys in Rio on Tuesday. Alicia was also around wearing a wild outfit of her own, glowing from her bikini time in the sun. In addition to filming the video Beyonce's also in South America for the final leg of her tour, and she joined her mother Tina for an afternoon of sightseeing as the pair made a trip to one of the new seven famous wonders of the world, Christ the Redeemer statue in Rio de Janeiro — check out where to get Beyonce's cute colorful jumper here.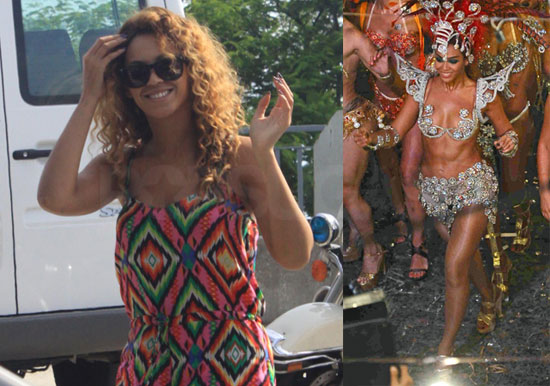 More photos of Beyonce in Brazil so
.