Photos of Beyonce Knowles, Kim Kardashian, Ali Larter, Jay-Z at Obsessed Premiere
Beyonce Gets Obsessed and Looks Toward Broadway
Beyonce Knowles showed off her legs in an LBD with a transforming train at her Obsessed premiere in NYC last night. Her costar Ali Larter smiled brightly in white, and Kim Kardashian looked tanned after her bikini vacation in Mexico. Jay-Z slipped in to join his wife for the screening and afterparty. Beyonce's schedule is full right now with her new film and her tour kicking off in Croatia this weekend, but she already has her eye on the future. She recently revealed she's interested in Broadway, saying: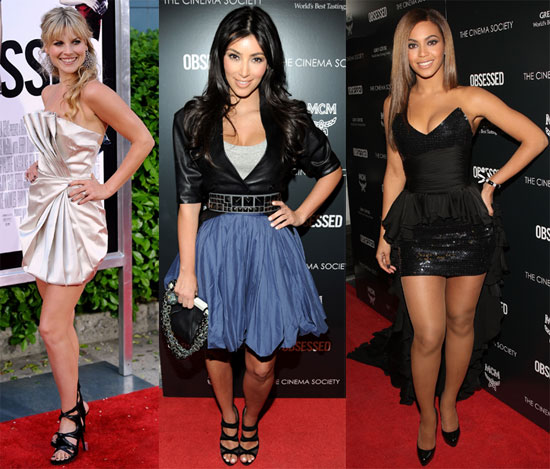 "I'll be able to go to the theater every day and drop my kids off and maybe make some food — maybe I'll know how to cook by then — and then go do what I love and have some normalcy and have a regular schedule. I definitely want to do Broadway."
Sounds like Beyonce is not only thinking of her career but her future family with Jay-Z, though it doesn't sound like she's ready to stay in one place for too long just yet.
To see lots more photos including Jay-Z, Jerry O'Connell and many othersn just read more.
Images include: Beyonce, Ali Larter, Patricia Field, Jerry O'Connell, Kim Kardashian, Christian Siriano, Tina Knowles, Russell Simmons, Olivia Palermo, Jay-Z, Coco Rocha
Source and INFDaily.com