Photos of Blake Lively in Allure Magazine
Blake Wants You to Know She's Not a Piece of Bubble Gum
Blake Lively and her very smoky eyes are on the cover of Allure's May issue, which is out on April 21. She's currently enjoying some time off with Penn, but before her hiatus she sat down with the magazine to chat about keeping her love life private and her image. Here's more: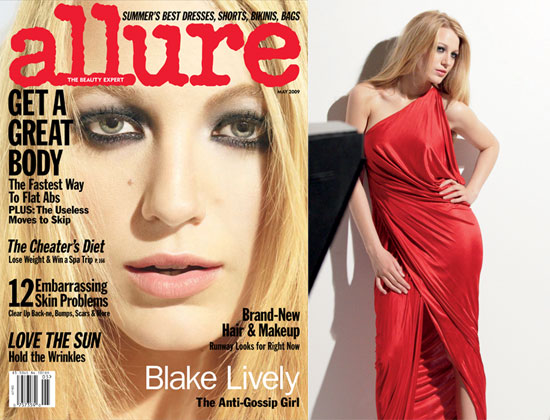 On her size: "I feel like a tranny a lot of the time. I don't know, I'm. . . large? They put me in six-inch heels, and I tower over every man. I've got this long hair and lots of clothes and makeup on. I just feel really big a lot of the time, and I'm surrounded by a lot of tiny people. I feel like a man sometimes."
On her image: "I'm blonde, and I have a small dog, so I try to avoid looking like a piece of bubble gum."
On why she doesn't talk much about Penn: "You see people who will open up their relationships, who are very affectionate on the red carpet or are doing a reality show with each other, and their relationship just seems to crumble, so I decided to keep a vow of silence."
On what she will say about her boyfriend: "He plays any instrument he picks up. He bought a piano, and then two months later you would think he was a concert pianist."
It's great to see she's one gorgeous girl who doesn't take things too seriously. Her Gossip Girl costars are going to be busy during their Summer hiatus from the series, and Blake's sure to be back to work once she returns all rested from her trip.