Photos of Brad Pitt and Angelina Jolie With Kids In Italy On Easter
The Whole Jolie-Pitt Family Has a Festive Easter In Italy!
Angelina Jolie and Brad Pitt brought their kids to San Servolo Island in Italy yesterday fully equipped with Easter baskets for a private egg hunt to celebrate the holiday. The family is familiar with spending their Spring vacations in Europe, and this trek wasn't too far from their temporary Venice home. Knox and Vivienne hitched rides on mom and dad's hips, though lately we've been seeing a whole lot more of Angelina with the children than Brad. She and the twins have made a tradition of their morning balcony routine, while Shiloh and Zahara get to have their own adventures with their responsible purchaser parent. This time, however, Angelina's bag of choice was a backpack to hold all the chocolate and Springtime treats for her little bunnies.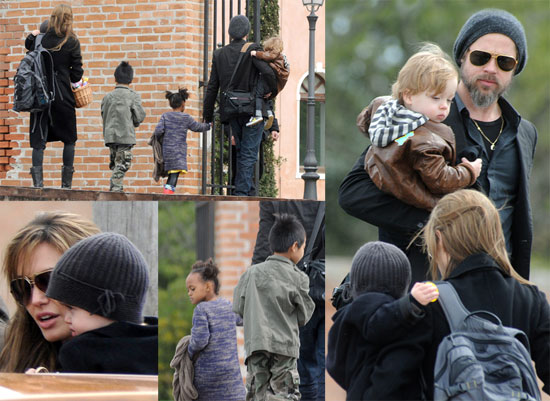 To see more of the Jolie-Pitts just read more.