Photos of Brad Pitt and Angelina Jolie at LA Premiere of Inglourious Basteds, Quotes About Brad Pitt
Basterds Hit LA With Angelina, Brad, and Lottery-Winning Diane as Cast Gushes About Mr. Pitt
Inglourious Basterds took over LA last night for its big star-studded red carpet and premiere. All the stars of the film were there, but Brad Pitt and Angelina Jolie had all eyes on them as they posed lovingly in matching black. On Sunday, Brad skipped the press junket, but some of his costars were happy to talk about working with him. Diane Kruger, who looked amazing as usual at the screening, said, "What I really admire in someone like Brad, who's such a big movie star, is that he's truly all about the work still. It's not all about being Brad Pitt on set. He's dedicated." She also gushed about working on the movie saying, "I've won the lottery. I'm in a Quentin Tarantino movie. I'll be cool with my kids forever!"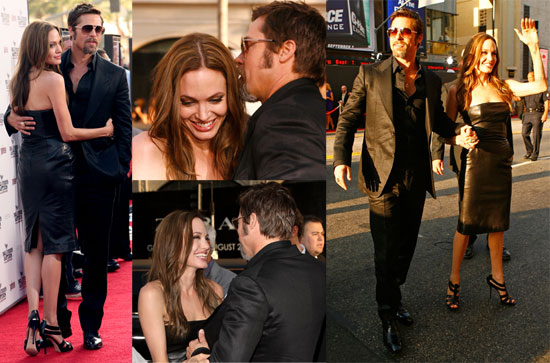 The movie features many other foreign actors alongside Brad, B.J. Novak, and Eli Roth. Irish actor Michael Fassbender said of Brad, "He's one of the good guys out there — to be so talented and to be at the top of his game for so long and to be so real . . . generous . . . and very supportive. It's pretty humbling." Meanwhile, B.J. talked about when Brad attended Quentin's movie nights in Berlin: "[Brad] showed up once or twice. He has a well-documented family life to attend to, but he was really good and cool about being social with everyone. He made us feel like we were part of a gang that he was the leader of." In the movie, Brad heads up his gang of Basterds, but in real life it sounds like he's a pretty good leading man to have around too.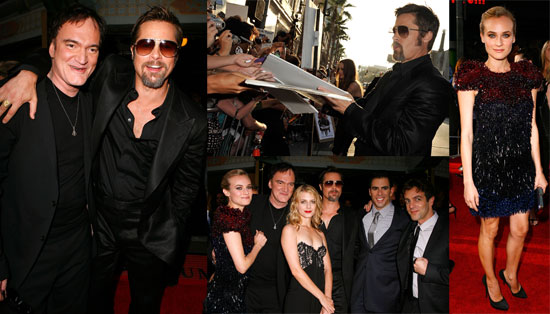 To see lots more from the premiere, just read more.
Images include: Brad Pitt, Angelina Jolie, Diane Kruger, Christina Ricci, Quentin Tarantino, Harvey Weinstein, B.J. Novak, Sidney Poitier