Photos of Brad Pitt, Angelina Jolie, Maddox Jolie-Pitt, Pax Jolie-Pitt Buying Gerbils in France
See Brad and Angelina Bring Maddox and Pax to Buy Gerbils!
Brad Pitt and Angelina Jolie expanded their family last week and we're just now getting a look at the new additions! The couple brought Maddox and Pax to a pet shop in France to pick out some furry buddies. The boys bought gerbils and goldfish, and Maddox even left carrying a cactus. The Jolie-Pitt family is back in the south of France, where they snuck off to right before Inglourious Basterds hit theaters — and broke records — last weekend. After spending their Summer in NYC and LA, the six kids and their famous parents are back to their private chateau in France for whatever free time they have.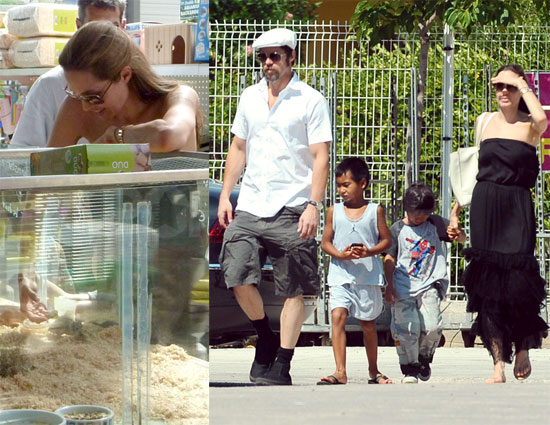 While doing press for the movie, Brad's costar BJ Novak talked about the kind of TV Pitt likes to watch, saying, "The stuff that he could basically recommend were childrens' television shows, and he was happy about that. He was happy that it was reflective of his life and his values. It's was cool, to be Brad Pitt and to spend most of your time watching furry animals on television with your kids — that's a pretty great balance to strike in life." With his upcoming animated movie and a few new pets to take care of in their household, it sounds like Brad's all about his family in every way.
To see LOTS more of Brad, Angelina, Maddox, and Pax, just
.