Photos of Brad Pitt on the Oprah Winfrey Show
More Cute Tidbits From Brad's Interview With Oprah
Brad Pitt chatted with Oprah a few weeks ago, and tomorrow we'll finally get to see the full episode. Until then, here are a few more cute quotes where Brad talks about how funny the kids are and reveals a few of their little quirks: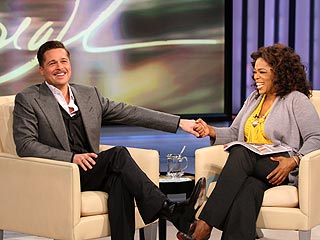 On being a dad: "[The kids are] the funniest people I've ever met. And you know it really tells you — it's a great mirror for yourself. It really tells you a lot about yourself and who you are and how you react to things. They make me better. They make me a better person as a father."
On getting the kids ready for a day out: "We don't go to the mall. It's like a half-an-hour just to get everyone buckled in and make sure they've got their snacks, and Z.Z. [Zahara, 3] has got a blanket and Shiloh's got her silky. Angie's militant about it. She's right on top of it. Thank God, because I'm always forgetting something."
On Shiloh's love for Peter Pan: "She only wants to be called John. John or Peter. So it's a Peter Pan thing. So we've got to call her John. 'Shi, do you want . . .' – 'John. I'm John.' And then I'll say, 'John, would you like some orange juice?' And she goes, 'No!' So, you know, it's just that kind of stuff that's cute to parents, and it's probably really obnoxious to other people."
It sounds like the Jolie-Pitts are shaping up to be a pretty hilarious bunch, and we can't wait to hear more about their changing personalities from Brad and Angelina as they continue to grow up.