Photos of Britney Spears and Jamie Spears at LAX
Britney Heads Out of the Country to Start the Circus
Britney Spears did her best to make her way through LAX today with her dad Jamie by her side. She's scheduled to make stops around Europe later this week, but while she's performing overseas we'll be getting ready to watch For the Record this Sunday, and even before that, you can listen to the full album on imeem now! Britney's manager Larry Rudolph opened up about why she decided to make the documentary, saying that the pop star wanted to tell the story herself and that she's finding more happiness every day, despite still being in a sad place. He said: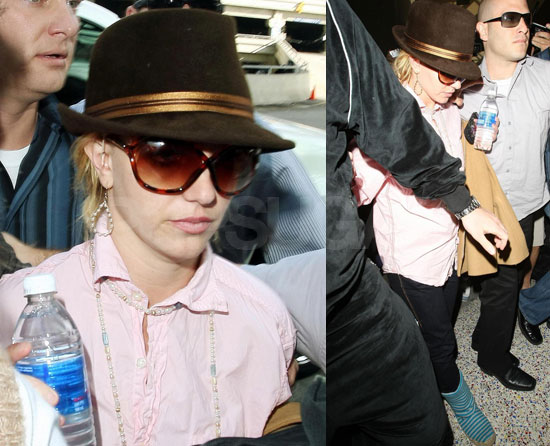 "She's already in a much better place than she was not that long ago and she knows that she's going to be in a better place a month from now, six months from now, a year from now, etc. That's what keeps her going. She's doing what she loves right now. Every day she's found more happiness in her life . . . We get along very well. I understand her better than everyone other than her immediate family. The bottom line is I think she's amazing. I love her. She's been a big part of my life, and I've been a big part of her life. Being a part of this new phase in her career is something I was very open to."
As Britney continues to keep her career on track, apparently she's also been arguing with her dad for more control over her personal life, but for now it's just full steam ahead and time to get back on stage.
To see more of Brit at the airport, just read more.