Photos of Britney Spears on the Set of Her Video For "If U Seek Amy"
Britney Plays Hide and Seek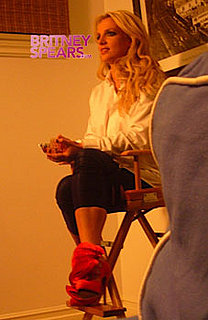 Britney Spears just put up a few teaser photos from the set of her new video for "If U Seek Amy" on her official website. She looked hot all done up between takes, and we're excited to see the final result.
Last week she Twittered about the sexy shoot before snuggling up with her sons on Friday. There's also a video of her backup dancers practicing their moves, but we can't wait to see Britney herself back in the center of the ring dancing up a storm.