Photos of Britney Spears in a Wig Leaving Video Shoot in LA, Simon Cowell Talks About Britney on X Factor
Britney Wigs Out For Womanizer and Has a Fan in Simon
Britney Spears was back to her wig ways, but this time she was just spotted on her way back to her car after a long day supposedly shooting the video for "Womanizer" in LA. She's got the single on the way and she's already lining up appearances — there were rumors that she would be appearing on the UK's X Factor and producer Simon Cowell confirmed that he's excited to have her. Simon said,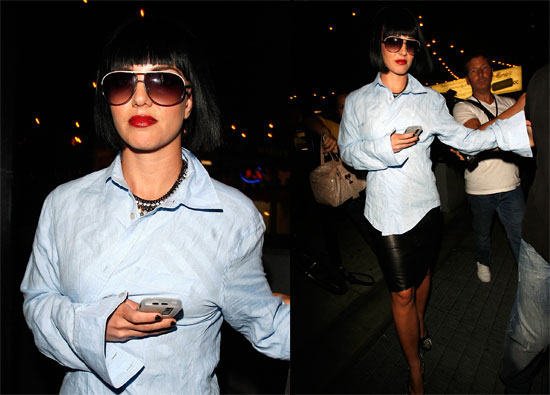 "I've always said this about Britney -- that she's a hugely talented person. Everyone wants to work with her because she's a star. She's the number one booking in the world at the moment for a show... The fact that she goes a bit crazy occasionally makes her more interesting. And now she has her career back on track -- fantastic. I'm thrilled. . . If she wants to shave her head before she comes on the show, she's welcome to. I don't care."
She's still got lots of fans all over and we can't wait to see her back on stage — though we'd rather she stay away from the breakdowns and head shaving from here on out.
To see more of Britney in her wig just read more.