Photos of Cameron Diaz and Courteney Cox in the PopSugar 100 Matchup
Who Had a Bigger Year — Cameron Diaz or Courteney Cox?
The first round of the fourth annual PopSugar 100 is heating up, and one of the closest battles is between Cameron Diaz and Courteney Cox. Let's recap where they stand professionally — Courteney's had an incredible year with the success of Cougar Town, while Cameron's been hard at work filming Knight and Day and Bad Teacher. There's still time to vote, so make sure to fill out your ballot and enter to win an amazing Chanel bag!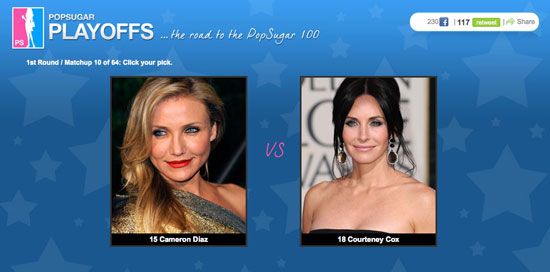 To see the full rundown on Cameron vs. Courteney's year just
.
| Name | Career | Personal Life | Philanthropy | Awards | Other |
| --- | --- | --- | --- | --- | --- |
| Cameron Diaz | My Sister's Keeper, The Box hit theaters; filmed Knight and Day, Bad Teacher | Has fun as a single lady | Eco-activist, participated in Haiti telethon | Received a star on the Walk of Fame; won a Teen Choice Award for My Sister's Keeper | Loves to do yoga in her bikini |
| Courteney Cox | Starring in hit sitcom Cougar Town | Married to David Arquette with daughter Coco | Remains low-key about her charity work | Nominated for People's Choice and Golden Globe awards with Cougar Town | Loves to vacation in Mexico with best friend Jennifer Aniston |