Photos of Cameron Diaz and James Marsden At the NYC Premiere of The Box
Cameron Premieres Her Box and Opens Up About Life
Cameron Diaz and James Marsden hit the red carpet together in NYC last night at the premiere of their movie The Box. It hits theaters this weekend, though the buzz has been pretty quiet for the scary looking film with its chic '70s interiors. Cameron has been busy up in Boston filming Knight and Day with Tom Cruise, but she took a break to talk to Parade about her new film. Here are highlights: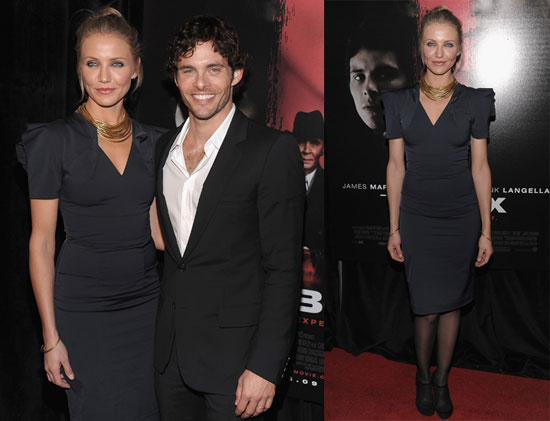 On life and being confident: "I don't have to prove anything to anybody. I know who I am. I have my own sense of myself. And the things that I do, I do for myself and to challenge myself and to have my own experience. I'm in a completely different place in my life now and I'm very comfortable where I'm at. I'm looking forward to the future. I'm looking forward to this afternoon and tomorrow and the next day and a month from now."
On being self-deprecating: "I don't think that self-deprecation is healthy for people. I think you should have a healthy relationship with yourself. We all have our up days and our down days. But I'm not going to walk through this world hating myself because somebody doesn't like me or doesn't think I'm pretty or that I should be ashamed that people think that I'm pretty. How am I going to live my life trying to figure out what everybody else feels about me? All I can do is know how I feel about myself."
On heartbreak: "Oftentimes, the way that we learn is to have our heart broken. As many times as we fall in love, our heart gets broken. But heartbreak is always a part of life, from not making a team in your favorite sport to your parents having a fight. Life is full of ups and downs. You can't know happiness without sadness and vice versa. The great thing about getting older is you become wiser and you gain knowledge and you grow. There's nothing wrong with that. That's a wonderful thing."
For more photos from the premiere just
.