Photos of Cameron Diaz Looking Hot Filming Bad Teacher
Cameron Diaz Bares Her Stomach and Long Legs For Teacher Car Wash!
Cameron Diaz showed some skin yesterday while filming a car wash scene on the set of Bad Teacher in LA. Her role in the movie involves trying to romance a colleague, played by her ex-boyfriend Justin Timberlake, and in outfits like that it's easy to see how she does it! Justin wasn't around to take in the sight firsthand, as he had to make the trek to the Philippines in order to perform in Manila on Saturday night. Neither Cameron nor Justin attended the weekend's Kids' Choice Awards, but that didn't stop us from taking a walk down memory lane back to when they first connected at the 2003 ceremony.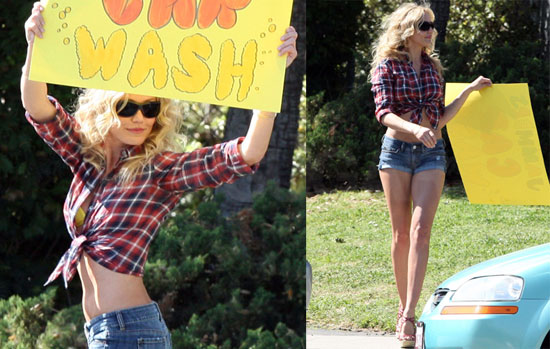 To see more Cameron, just read more.