Photos of Carrie Underwood Arriving in Miami
Carrie Arrives in Miami With Exciting Movie News
Carrie Underwood touched down in Miami yesterday with her dog Ace. She's in Florida ahead of Sunday's Super Bowl, where she's due to sing the national anthem. Her fiance Mike Fisher wasn't at the airport, but he was able to see her take home gold at last weekend's Grammys. Carrie's set to venture into non-musical territory with a new project — she's joined the cast of Soul Surfer, a film about the surfer Bethany Hamilton. She's also on the cover of March's Cosmopolitan where she talked about her job, but not Mike. Here's more: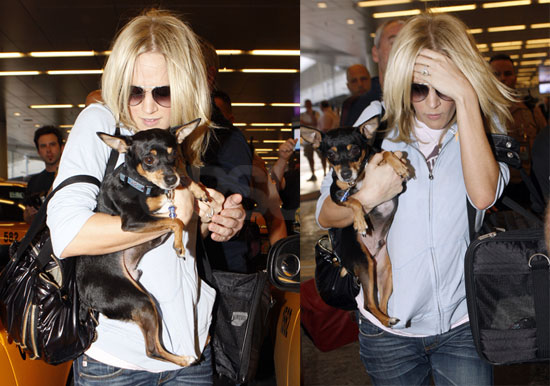 On her job: "An Oklahoma girl like me wouldn't even know how to be a diva. I'm just a person who has a cool job. I love to be at home. I rarely go to clubs. . . and I always wear underwear! I just know I'd fall down, and that's not for everyone to see."
On Mike: "Don't know who that is."