Photos of Carrie Underwood With a Puppy at the 6th Annual Pedigree Adoption Drive in NYC 2010-03-30 17:00:00
Carrie's Getting Sweet Kisses From a Puppy Instead of Mike!
Carrie Underwood was in NYC earlier today making new four-legged friends at Pedigree's Pet Adoption Drive. She didn't bring along her constant companion and future ring bearer, Ace, but Carrie quickly warmed up to an adorable beagle puppy who's currently looking for a family. Carrie has other reasons to be smiling besides her animal philanthropy — she just achieved her 12th number one single with "Temporary Home." It's a topic she knows about after being on the move touring for the past year, but lately she's also been talking up her loyalty to fiance Mike Fisher's native Canada after a concert there last week.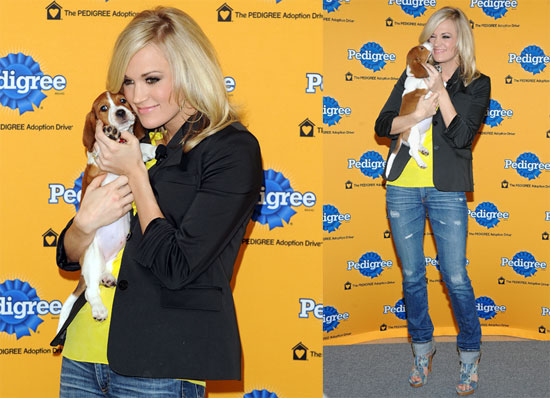 To see more of Carrie just read more