Photos of The Cast of The Vampire Diaries On The Cover of Nylon Magazine 2010-01-19 11:30:00
Vampire Diaries Tip Their Hat to Twilight and True Blood
Paul Wesley, Nina Dobrev and Ian Somerhalder of The Vampire Diaries scored the cover of the upcoming February Nylon. The gang is fresh off a stop at the Winter TCAs, where they dished all about their show ahead of its return this Thursday — check out a sneak peek at the new episodes! Paul, Nina and Ian talked about how their series follows in Twilight and True Blood's vampire footsteps, but also what sets it apart. Here's more: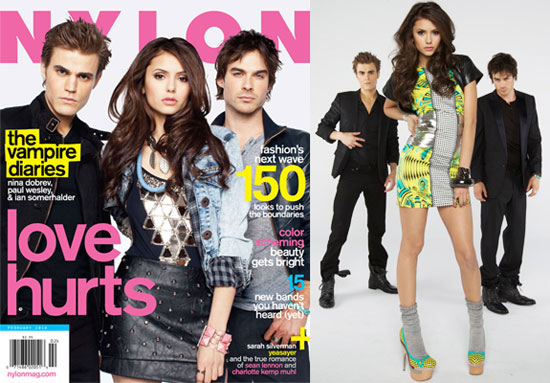 Paul on the success of the show: "Do I think the show would be successful as it is, if it weren't for Twilight? No."
Nina on the similarities with Twilight and True Blood: "When the show first started. . . you automatically thought Twilight. But once you continue, there's a whole other side of it that goes a lot deeper. . . It's about letting everyone know that we're different but we all respect each other."
Ian on the similarities between his character on Lost and Vampire Diaries : "[My character] is gonna be the coolest character on television. There was no doubt about it. It reminded me of Sawyer, Josh Holloway's character on Lost. He was always the character I secretly wished I could play."
Ian on his hiatus between Lost and Vampire Diaries : "I fell off the face of the f*cking planet. I thought I was being cool and edgy, and it seemed like something Johnny Depp would have done 15 years ago. Wrong. Biggest Mistake."