Photos of Celebrities at Fashion's Night Out in NYC, Victoria Beckham, Sarah Jessica Parker, Rihanna, Sienna Miller
Fashion's Night Out Succeeds With Tons of Stars and Parties!
Manhattan was buzzing last night with all the excitement of Fashion's Night Out. It was an amazing way to help kick off New York Fashion Week across the city. Celebrities were out in full force to support the event, holding court at different stores while fans and press mingled, shopped, and spotted the well-dressed stars. Anna Wintour bounced between locations posing with her fashion-icon friends like Charlize Theron, Kate Hudson, and Sienna Miller. The Miller sisters were the guests of honor at the Intermix boutique, while Lindsay Lohan hit up Bloomingdales. Mary-Kate and Ashley Olsen were surrounded by crazy security — maybe the most of anyone — for their appearance at Barney's. Meanwhile, Victoria Beckham was incredibly gracious despite the crowd at Bergdorf Goodman, posing with fans and pouting for cameras.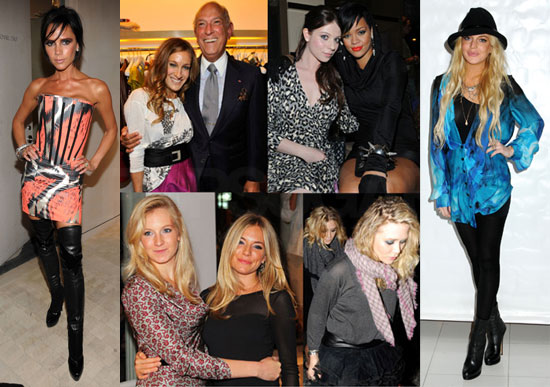 Nicky Hilton and Rachel Zoe were a vision together at the Bally party, while Sarah Jessica Parker laughed with Oscar de la Renta and Barbara Walters at Oscar's boutique. Charlize Theron signed copies of her Vogue September issue while Rihanna sauntered into events with all eyes on her daring black outfit, and Blake Lively held down the preppy front at Ralph Lauren. We have great video from the night — as well as an interview with Gwen Stefani after showing off her new line — all coming up soon, so stay tuned! Plus, don't miss any of our live Fashion Week coverage here.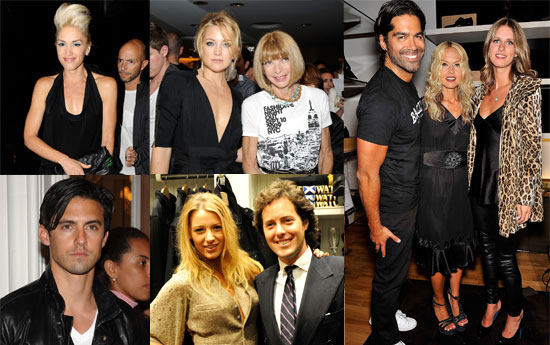 To see more from the party including Charlize, Victoria, Anna, Sienna, Rihanna, and so many others, just read more.
Images include: Charlize Theron, Victoria Beckham, Anna Wintour, Sienna Miller, Rihanna, Nicky Hilton, Rachel Zoe, Sarah Jessica Parker, Barbara Walters, Bette Midler, Mary-Kate Olsen, Ashley Olsen, Gwen Stefani, Milo Ventimiglia, Emmy Rossum, Kate Hudson, Lindsay Lohan, Blake Lively